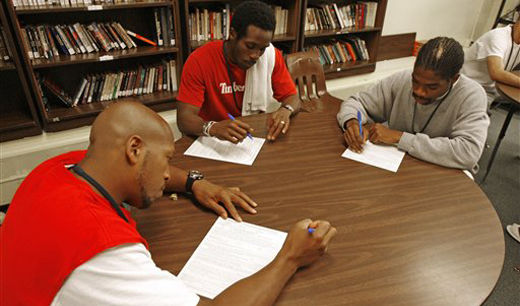 A three-judge panel of the 9th U.S. Circuit Court of Appeals in Seattle, Wash., in a 2-1 decision Tuesday, has ruled in favor of felons the right to vote in state prisons there. The current law violates the 1965 Voting Rights Act and discriminated against racial minorities, says the ruling.
The measure overturns a 2000 ruling of a district judge in Spokane that had banned felons from voting until they are released and off parole.
The court ruling involved a 1996 lawsuit filed by a group of Black, Latino and Native American prison inmates that sued the state because they were disenfranchised due to felony convictions.
Circuit Court Judge A. Wallace Tashima wrote that attorneys for the six plaintiffs that filed suit had "demonstrated that police practices, searches, arrests, detention practices and plea-bargaining practices lead to a greater burden on minorities that cannot be explained in race-neutral ways."
Tashima writes that, "Minorities are more likely than whites to be searched, arrested, detained and ultimately prosecuted."
He points out that studies also find that African Americans in Washington were more than nine times as likely to be in prison as whites and 70 percent more likely to be searched. At one police department officers were more likely to find contraband when searching whites, said Tashima.
The Voting Rights Act "demands that such racial discrimination not spread to the ballot box," he notes.
Attorneys for the plaintiffs relied on research by University of Washington sociologists that found large disparities in arrests and conviction cases between whites and minorities.
If upheld, the ruling would allow more than 18,000 prison inmates and 19,000 felons currently in state custody to get their right to vote back, of which 37.1 percent are minorities. In that group African Americans make up the largest sector at 19.2 percent. Blacks, Latinos and Native Americans make up 12 percent of the state's population.
The lawsuit contended that because minorities make up a large percent of the prison population, a state law that denies inmates and parolees from voting is illegal because it overly limits the voting power of the minority electorate. This problem is a direct violation of the U.S. Voting Rights Act, says the lawsuit.
Supporters of the ruling say the measure could extend ballots to prisoners in other states where studies also show racial bias in criminal justice.
Although the ruling only covers Washington state, if it stands, supporters add it could also be the basis for litigation in any area covered by the 9th Circuit such as Oregon, Idaho, Montana, California, Nevada, Arizona, Alaska, Hawaii, Guam and the Northern Marianas.
Although there is a series of laws across the country dealing with restoration of felon's voting rights, only Maine and Vermont allow inmates behind bars to cast ballots.
Meanwhile Attorney General Rob McKenna plans to appeal to the U.S. Supreme Court in against the ruling in an attempt to overturn the measure. The appeal has to be filed with the court by April, and the state will seek a stay on felony inmates' ability to vote until the case is resolved.
Voter rights advocates and civil rights leaders on the other hand say the measure is a step in the right direction and welcome the ruling. They add the issues the Washington ruling raises about racial bias in the justice system are often similar cases in other areas where a majority of felons are predominantly people of color. These are issues that permeate the justice system and are relevant throughout the country, where an estimated 5.3 million people nationwide are ineligible to vote because of a felony conviction, they say.
Ryan Haygood with the NAACP Legal Defense Fund and lead attorney for the plaintiffs says evidence demonstrates that minorities and whites that committed crimes in Washington aren't treated equally. Allowing felons the right to vote benefits everyone, he told the San Francisco Chronicle, because "participation legitimizes democracy."
Photo: AP Toby Talbot