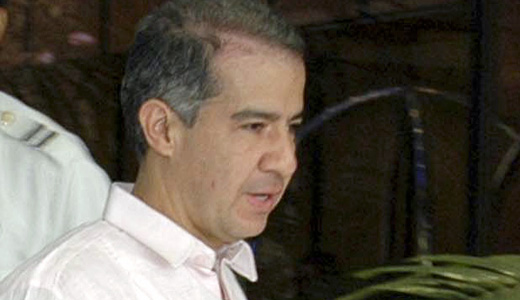 It was, lawyer Paul Wolf observed, "One of the most detailed judicial opinions ever written in any U.S. human rights case." On June 3, Florida District Court Judge Kenneth Marra rejected many, but not all, objections the U.S. Chiquita Corporation had advanced as it sought dismissal of civil suits filed by Wolf and other lawyers. The 95 page opinion begins: "Plaintiffs, [some 4000 of them], are the family members of trade unionists, banana-plantation workers, political organizers, social activists, and others tortured and killed by the Autodefensas Unidas de Colombia (AUC), a paramilitary organization operating in Colombia."
Chiquita had already pled guilty in 2007 to a U.S. prosecutor's charge that it paid $1.7 million between 1997 and 2004 to paramilitaries dominating the company's banana producing regions in Colombia. In a negotiated settlement, Chiquita agreed to pay the U.S. government $25 million in fines over five years. The United States allowed Chiquita executives to remain anonymous and unprosecuted.
Judge Marra gave something to both sides. In allowing the civil suits to proceed, he granted many of the plaintiffs' allegations. They include: http://www.icdc.com/~paulwolf/chiquitamemoop.pdf
"The AUC pursued a scorched earth policy of first driving the FARC [left-wing guerrillas] out and then brutally murdering and torturing people who lived in these areas."
"The AUC also targeted people thought to share the guerrillas' leftist ideology, such as teachers, community leaders, trade unionists, human rights activists, religious workers, and leftist politicians."
"Chiquita joined the conspiracy knowing that the AUC intended to fight the FARC by means of illegal violence against particular classes of civilians."
"Chiquita sought a meeting with the paramilitaries in late 1996 or early 1997 and concluded an agreement with the AUC whereby Chiquita paid the paramilitaries for their services."
Marra, however, ruled that henceforth plaintiffs would have to show that Chiquita, in making payments, actually intended paramilitaries to commit their crimes. Demonstrating mere knowledge on Chiquita's part that crimes would result will be inadequate.
Wolf believes "the Chiquita opinion provides a roadmap for holding American corporations responsible for war crimes and crimes against humanity committed overseas."
Yet some human rights activists express dismay that community oriented programs in Colombia won't benefit from future Chiquita payouts to victims.
For some, the court's decision recalls U.S. Attorney General Eric Holder's role in the Chiquita case. As the lead Chiquita attorney in the settlement with the U.S. government, Holder helped engineer Chiquita executives' avoidance of prosecution. Yet the Organization of American States reports Chiquita used its own ship and own port to deliver 3000 automatic rifles and five million rounds of ammunition to paramilitaries. U.S. law imposes penalties up to life in prison on those convicted of providing material support for terrorists, a category that includes Colombian paramilitaries.
Holder's idea of justice, some say, is pragmatic. The Justice Department he heads has not prosecuted Dole and Del Monte companies that also funded Colombian paramilitaries. His agency refuses to prosecute Luis Posada for terrorist attacks on Cuba: bombings of an airplane and hotels claiming dozens of lives. Nor has it extradited him, as requested, to Venezuela for trial.
The Colombian government itself has an important take on the Chiquita imbroglio. A foreign corporation, after all, paid off criminals who were ravaging Colombian citizens. Writing in La Semana on May 30, León Valencia, co-author of a well regarded book on paramilitaries, recalls that at the time of the U.S.-Chiquita settlement, Colombian Attorney General Mario Iguaran announced he was seeking extradition of eight Chiquita executives for prosecution in Colombia. For Valencia, the Chiquita scandal "is an historic lesson for those who have abused our nation and trampled down our territory." He cited massacres, forced displacement from land, and subsequent dispersion of paramilitaries throughout Colombia. Valencia seeks "investigation of all foreign companies promoting crime and terror in the country."
Jailed paramilitary leaders testified Chiquita paid them three cents for every box of exported bananas. Valencia calculates that between 1997 and 2004, Chiquita exported 647,706,429 boxes, and "$19,431,193 fell into the coffers of the paramilitaries," far more than the $1.7 million the U.S. government alleged in 2007.
Those with long memories recall the massacre in 1928 by Colombian troops of some 3000 banana workers striking against United Fruit Company. Later that entity would change its name, but not its substance, to Chiquita.
Photo: Colombia's chief federal prosecutor Mario Iguaran after attending a news conference in Barranquilla, Colombia, March 16, 2007. There it was announced that the chief federal prosecutor's office said it would ask the U.S. Justice Department for information on Chiquita's role in smuggling 3,000 assault rifles and millions of rounds of ammunition to far-right paramilitaries that killed thousands of people in the region where the company got its bananas (AP)