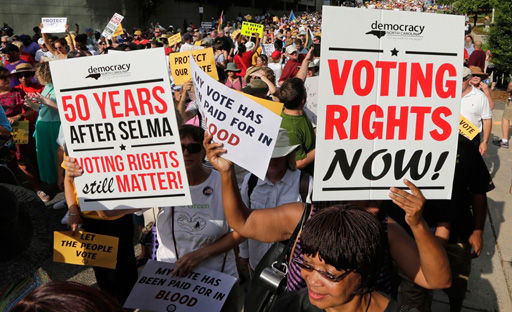 Court rulings in recent weeks have given voters in five states reason to hope they will be allowed to cast their ballots in the upcoming presidential election. Right wing efforts to suppress the voting rights of minority groups have hit roadblocks in North Carolina, Wisconsin, Texas, North Dakota and Kansas.
The fight is far from over, however. The governments of each of the five states have been captured by far right wingers who have now vowed to ask the Supreme Court for emergency action.
Three years ago, the Supreme Court paved the way for the recent deluge of voter suppression laws. It gutted the Voting Rights Act, taking away the power of the federal government to prevent states from passing laws aimed at disenfranchising groups of voters.
Almost immediately, 22 states passed new restrictions on voting rights.
North Carolina
The crudest and most devastating attempt at voter suppression was perpetrated by the legislature and governor of North Carolina.
Literally within hours of the Supreme Court decision, the right wing controlled legislature started crafting the most restrictive anti-voter regulations in the nation.
Among other measures, the state required strict voter ID to cast a ballot, cut early voting by one week, eliminated same-day voter registration and out of precinct voting and eliminated pre-registration for 16- and 17-year-olds.
Thousands of North Carolinians protested, staging weekly mass demonstrations and filing several court suits.
Their concerns proved to be true.
There was widespread voter suppression in North Carolina's presidential primary this past March. In order to vote, people had to be able to wait in line for three or more hours. In a throwback to the "literacy tests" of the Jim Crow era, foreign-born US citizens were asked to spell their names to poll workers. Elderly voters with vivid memories of segregation were turned away from the polls.
Then on July 29, the US Court of Appeals for the Fourth Circuit handed down a major victory for democratic rights. It ruled that the restrictions passed by the North Carolina General Assembly "targeted African Americans with almost surgical precision" in violation of the Voting Rights Act and the 14th Amendment of the Constitution.
The Court said that just because Republicans were in the majority did not give them the right to stop voters from exercising their rights.
The Court said " … winning an election does not empower anyone in any party to engage in purposeful racial discrimination."
Wisconsin
The same day a court ruled against voter suppression in North Carolina, a federal judge did the same regarding Wisconsin.
In his decision, U.S. District Judge James D. Peterson struck down as unconstitutional limits on in-person absentee voting, residency requirements and a ban on using expired student identification.
Moreover, Peterson dealt head on with Republicans' phony justification for passing ID requirements that restrict voting rights.  Like other right wingers, Wisconsin Governor Scott Walker, a Tea Party favorite, had said that the restrictive laws were needed to prevent voter fraud.
But Judge Peterson wrote that "The Wisconsin experience demonstrates that a preoccupation with mostly phantom election fraud leads to real incidents of disenfranchisement.
"To put it bluntly," Peterson wrote, "Wisconsin's strict version of voter ID law is a cure worse than the disease."
He implied that if the Supreme Court had not ruled that states could pass voter ID requirements, he would eliminate these restrictions altogether.
However, he did rule that the requirement forcing Wisconsin voters to show either a photo identification or go through a special petition process had unfairly burdened minorities and needed to be reformed or replaced before the November presidential election.
Nevertheless, Peterson left Wisconsin's current voting rules intact for the August 9 primary elections for federal, state and local offices, saying to change them less than two weeks in advance would be disruptive.
Texas
On July 20, the U.S. Court of Appeals for the Fifth Circuit ruled that Texas's voter ID law discriminated against minority voters and must be fixed by the November elections.
It refused to strike down the law completely.
Nine of the 15 Fifth Circuit appellate judges upheld a district court's finding that 600,000 people, lack the specific kind of identification required – a driver's license, military ID, passport or weapons permit, among them – and that it would be difficult for many to secure it.
African American, Hispanic and poor voters were most likely to be affected, the court found.
"It would be untenable to permit a law with a discriminatory effect to remain in operation" for the coming election, wrote U.S. Circuit Judge Catharina Haynes for the majority, made of up five judges nominated by Democratic presidents and four nominated by Republicans.
Those who possess the necessary ID must show it to vote in November, Haynes wrote. But she said the district court judge who first heard the case should fashion a remedy to rectify "the discriminatory effect on those voters who do not have . . . ID or are unable to reasonably obtain such identification."
North Dakota
Yesterday, August 1, a federal judge ruled that North Dakota's strict voter ID law, passed in 2013, is unfair to Native Americans.
The Court blocked the law from being used in the coming election.
U.S. District Judge Daniel L. Hovland, a George W. Bush appointee, said North Dakota for years had provided an alternative to voters unable to get the specific kinds of ID required and that eliminating it has disenfranchised eligible voters.
Before 2013, the state allowed many forms of identification for use at the polls and those without an ID could sign affidavits to their identity. But in 2013 the law was changed to allow only four forms of ID: a North Dakota driver's license; a North Dakota non-driver's ID card; a tribal government-issued ID card; or an alternative form of ID prescribed by the secretary of state.
To make matters worse, a provision added last year prohibited the secretary of state from allowing college IDs or military IDs to be used.
"Although the majority of voters in North Dakota either possess a qualifying voter ID or can easily obtain one, it is clear that a safety net is needed for those voters who simply cannot obtain a qualifying voter ID with reasonable effort," Judge Hovland wrote.
"Voter fraud in North Dakota has been virtually non-existent," he wrote.
Kansas
In mid May, a federal judge ruled that Kansas cannot require voters to prove their citizenship when registering to vote.
U.S. District Judge Julie A. Robinson decided that part of Kansas' voter ID law is in violation of  the 1993 National Voter Registration Act, which says states may only require voters provide the "minimum amount of information necessary" to assess whether or not someone is eligible to vote.
Robinson ordered that Kansas re-register about 18,000 voters who registered at a department of motor vehicles office but did not provide the identification required by Kansas law.
"This ruling lifts the barrier that the state illegally imposed on Kansans who were trying to register to vote," said Dale Ho, the director of the Voting Rights Project at the ACLU. "It means thousands of people who could have been sidelined … will be able to participate [in the November elections]."
Photo: The Moral Monday movement in North Carolina has built up the pressure resulting in the recent sweeping court victory that threw out North Carpolina's restrictive voting laws.  |  Chuck Burton/AP