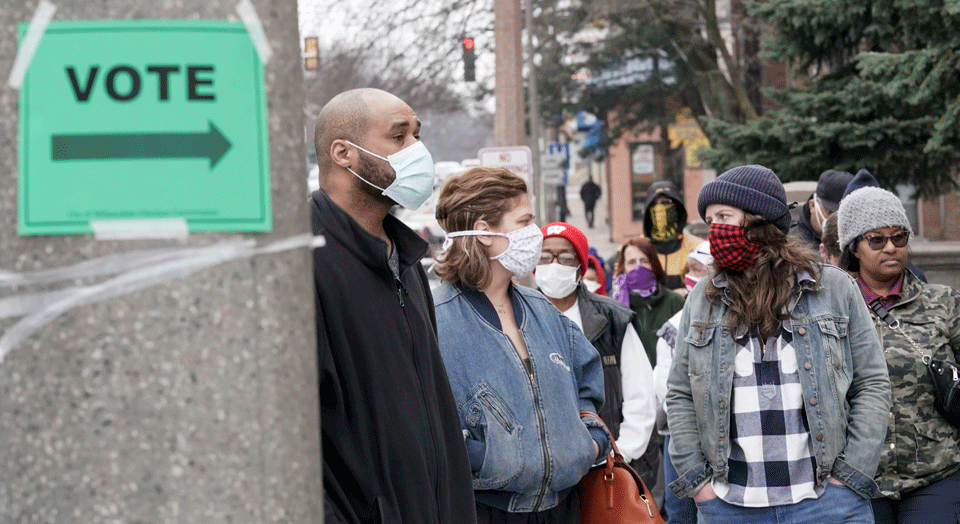 COVID-19 is teaching us many lessons. About viruses, physical distancing, working from home, being unemployed yet confined in the home. I think the biggest lesson, politically, is the overriding task to preserve democratic elections.
The virus is changing our elections—candidate filing deadlines, dates for primary contests, but especially methods of voting. In state courthouses and legislatures, the dividing question is: Should absentee voting expand or not?
Horror in Wisconsin
In Wisconsin, as the virus was spreading, many more voters than usual requested absentee ballots for the April 7 primary. Election offices could not mail the ballots to these voters in time for the voters to make the mailing deadline. Democratic Gov. Tony Evers ordered the elections to be postponed, but the state Supreme Court sided with Republicans to hold the elections despite the coronavirus. Trump's Supreme Court overturned a lower court ruling and ruled that mailing deadlines could not be extended. In effect, both Republican-dominated courts told those voters, "If you want to vote, you must go to the polls," but failed to add, "you might die trying."
Milwaukee opened only five of 180 polling sites. Other counties similarly were able to open just a few, and 52 voters have tested positive for the virus. Clearly, absentee ballots are the only safe pathway.
Basics on absentee voting
President Trump weighed in on the discussion, calling absentee ballots and mail-in voting a fraud, though (surprisingly!) his claims do not hold up. He also said it hurts Republican chances for elections, though Utah (one of the five states that conduct "all-mail" elections) is about as conservative as it gets. There, Republicans comprise nearly 80% of state house and senate seats, both U.S. Senators, and three of the four U.S. House members (and its Democrat is a "Blue Dog").
Besides, states run all elections in this country. And that is where the struggle for expanding absentee voting is occurring. The District of Columbia and 29 states allow it. In 16 instances, voters must have an excuse to get these mail-in ballots.
The reasons are typically sickness, physical disability, and being out of the country. "No excuse" absentee voting means you do not need a reason when you apply. But you must apply—it isn't automatically mailed to you. Utah and the other four "all-mail" states (Colorado, Hawaii, Oregon, and Washington) mail ballots to all voters (and all but Oregon operate limited polling sites).
The major parties on absentee voting
Don't conclude that all Republicans outside Utah are against it, for some have embraced it for decades, convinced it helps them win. In fact, the Party of Trump is expanding absentee voting in its safest states. And uneasily getting along with it in states where political power is relatively divided and they are forced to act reasonably (not a high bar in the Trump era).
In states where Democrats could win potentially many elections, the GOP is decisively against all absentee voting reform. Whether automatically mailing out the applications, or paying for voters' postage, or extending application deadlines. Or, most critically, permitting voters the need for absentee ballots because they fear contracting COVID-19 if they go to the voting sites.
On the other hand, the Democratic Party overall is for expanding absentee voting. Differences within the party arise as to how far to extend which specific reform, and the circumstances facing each state party play a critical role in positions and outcomes. Regardless, nearly every elected official in this party realizes that higher voter turnout usually leads to more Democratic election victories.
Republicans: For or Against, depending on circumstances
The term "trifecta" describes a state government in which the governor and a majority of state house and senate members are from the same political party. This control makes compromise with the other party unnecessary.
Like Utah, South Dakota is a Republican trifecta (around 85% of the state legislators are from the GOP!) with both U.S. Senators and its one House member from the GOP. Absentee ballots will be mailed to every active registered voter for the June primaries, regardless of recent voting history. This will happen without alarm because the Democratic Party threat is negligible.
In Alabama, another ruby-red trifecta, Republican Gov. Kay Ivey opposes absentee voting in all circumstances. The Republican Secretary of State John Merrill is advising people to check the "physical illness" box as the excuse for applying based on fear of getting the virus. But this troubles many would-be absentee voters who know the checked box would be untruthful.
Seven of the state's nine U.S. Representatives and Senators are Republicans. So are greater than 73% of all state legislators. Why, then, is the GOP carefree in South Dakota but paranoid in Alabama? A heavily enfranchised African American population, about 27% of the total, is the base of the state's Democratic Party. They are joined by a small but significant group of white voters, mostly based in and around the cities and larger towns, who also vote for Democratic state candidates. No such enfranchised threat exists in Utah or South Dakota.
In Arizona, Republican Gov. Doug Ducey opposes, and the Democratic Secretary of State Katie Hobbs and local election officials favor, a mail-in ballot election for the August primary. In Iowa, the Republican secretary of state is considering an all-mail election in November. (Originally, this was the goal for its June 2 state primaries.) These two are among the weakest of the Republican trifectas. In Arizona, the GOP controls barely more than half of the state house seats, and Arizona Democrats outnumber their state GOP rivals in the U.S. House, five to four. Iowa is very similar.
"Divided government" states
The term "divided government" means that neither party has a trifecta. In these states, there are highly contested fights over absentee voting.
Kentucky's Democratic Gov. Andy Beshear and Republican Secretary of State Michael Adams battled for weeks over the former's ability to change election law. A bipartisan-supported executive order calls for the state to expand mail voting for its all-mail primaries on June 23. No excuse is required, all voters will receive a postcard explaining how to request absentee ballots, a new online portal will be used, no notarization is required, and early voting will take place. The Republican legislature has been hostile since Beshear's election last fall.
Louisiana Gov. John Bel Edwards, the Deep South's only Democratic governor, has postponed various election dates several times. The Republican-dominated house and senate opposed Republican Secretary of State Kyle Ardoin's first emergency election plan, but committees in both chambers passed a watered-down second plan. For the presidential primary and municipal elections on July 11 and run-offs on August 11, people with certain medical conditions are able to vote absentee over COVID-19 concerns. (The first plan would have allowed everyone to do so.) Also early voting will be extended and polling sites may be relocated. Edwards supported the first plan but obviously signed the second.
Maryland's Republican Gov. Larry Hogan approved mail voting with back-up in-person voting for those who choose to go to the polls. Every "active registered" voter will get an absentee ballot with a postage-paid return envelope. In Massachusetts, one proposal is that all voters request absentee ballots; another has the state send these to all voters. Like Maryland, the Republicans now hold the governorship, but Democrats control both state chambers by wide margins.
Democratic trifectas
Where the Democratic Party has total control of the state government, it is not a matter of if elections can be improved, but by how much. Of course there are struggles within each state party.
In Illinois, Democratic Gov. J. B. Pritzker and the legislature might send every voter an absentee ballot application for the general election. In Nevada, Democrats and Republicans are battling over how to conduct absentee balloting in the June primaries. Republican Secretary of State Barbara Cegavske wants to mail ballots to only "active" voters and proposes one in-person voting site per county. Meaning, 16 counties that share 600,000 voters will have the same number of sites as will Clark County (Las Vegas), home to 1.3 million registered voters. Democratic Party strength may prevent this. Meanwhile, True the Vote focused on undemocratic voter-ID laws, filed a federal lawsuit opposing the Secretary's plan.
In New Mexico, most of the county clerks and Democratic Secretary of State Maggie Toulouse Oliver filed suit with the state Supreme Court asking for all-mail primaries on June 2. Republicans opposed this, saying the legislature must decide on this change. The court ruled against the primary being held solely by mail.
In New York, it is a question of which election will be solely absentee balloting. There are varying reports that Democratic Gov. Andrew Cuomo favors all voters receiving absentee ballot applications, followed by denials from the governor's office. The Democratic-controlled legislature removed the excuse requirement, but that won't happen for a couple of years.
Conclusions
In upcoming primaries and special elections, when physical distancing is critical to our people's health, the expansion of absentee voting is needed to ensure democratic contests. What about November? Some states have already planned for it. If the virus comes back in the fall, or if it never leaves us, given the race by states to open back up, it will be harder to change absentee voting rules.
Republicans expand absentee voting only when they are in total control and there is little Democratic Party opposition. They are forced into accepting some reform when Democrats share state power. But when the GOP controls the legislature in states with formidable Democratic Party strength, the Party of Trump is completely against absentee voting reform.
The Democratic Party is for expanding absentee voting, no matter what the conditions faced in each state. Louisiana's Gov. Edwards and Kentucky's Gov. Beshear face Republican-domination of both chambers of the legislature, so their choices are limited from the start, though they both favor far more reform than their Republican opponents allow. On the other hand, social democrat assembly members in California and New York, both states with a Democratic governor and majority-Democratic state senate, have much more room to criticize moderate plans.
Voter rights organizations including Common Cause have come out against the New York plan. Much of the criticism is about the ineptitude of local Boards of Elections. Advocates fear that inactive voters will not receive ballots. They also criticize the plan for not accommodating visually impaired voters. Furthermore, since translation is provided at poll sites but not necessarily in the mail-in ballots, foreign language speakers might suffer. Yes, all-mail voting has weaknesses, but the critics should instead study the five states that have used that system for some time. Besides, if the elections were to be nearly entirely on-site, wouldn't that jeopardize the health of all voters, including the visually impaired and those who speak foreign languages?
If we fail to preserve and expand our political democracy, we are continually in a defensive position, fighting like hell to not lose more against the extreme right. Progressive and simply liberal legislation is inconceivable when the GOP controls legislation and its executive approval.
This preservation is the necessary condition for trade union, civil, women's, and all other democratic rights. Forcing people to go to the polls during COVID-19 times will virtually guarantee low voter turnout.
Some friends were stunned at the developments in Wisconsin. But we shouldn't be surprised. Republicans of today are the ancestors of yesterday's Southern Democrats. These were the elected officials who had no problems when they completely eliminated democracy for African Americans in the South from the end of Reconstruction until forced into change by the modern civil rights movement of the 1950s and 1960s. Judging how so many Trump voters have stuck with him no matter what, many Republican voters won't be upset over the party's absentee voting positions, even as these infringe on their own options.