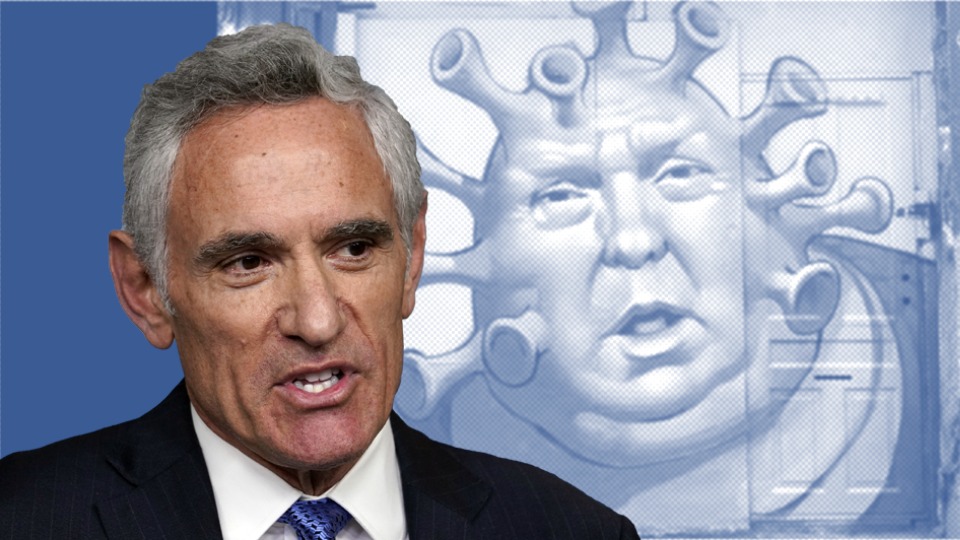 WASHINGTON—The GOP Donald Trump regime has issued new threats against Govs. Gretchen Whitmer, D-Mich., and the entire state of New York for standing up to its inaction in the war against the coronavirus plague.
But Trump's bluster doesn't deter Gov. Andrew Cuomo, D-N.Y. And the threat of violence uttered by Trump's so-called medical advisor on the pandemic, Dr. Scott Atlas, didn't stop Gov. Gretchen Whitmer, D-Mich., either.
She's closing down high schools and colleges, indoor dining, theaters, stadiums, and non-professional sports for at least three weeks, starting Nov. 18, to stop community spread of the pandemic. Students will go back to distance learning.
And Whitmer told MSNBC on Nov. 18 that people should stay home for Thanksgiving, too. "If you want to celebrate Thanksgiving next year with your loved ones, do this," she said on NBC.
The violent threat came from Trump's advisor, Atlas, a diagnostic radiologist with no expertise in infectious diseases. A political doctor who favors dismantling the Affordable Care Act, Medicare, and Medicaid, Atlas demanded people "rise up" against Whitmer.
Atlas's diatribe was viewed as yet another incitement to violence against the governor, target of a 13-person Trumpite plot several weeks ago to kidnap her and force her to rescind prior anti-virus restrictions. The FBI broke it up, with arrests.
"It actually took my breath away, to tell you the truth," Whitmer told NBC's Today co-host, Mika Brzezinski, about Atlas's threat. "We are in the midst of the worst weeks of this pandemic. We have been going through this for nine months and right now the numbers are as bad as they have been at any given time and so we have to take aggressive measures.
"With the vacuum of leadership in Washington D.C., it's on the states' governors to do what we can to save lives," Whitmer said. "We'll tighten things up and batten down the hatches," she added.
Medical specialists and officeholders of both parties, with the notable exception of the Michigan Senate's GOP leader, rushed to defend Whitmer. "I totally disagree with him," the scientific leader in the fight against the virus, Dr. Anthony Fauci, said about Atlas. "I totally disagree with the stand he takes. I just do, period."
Whitmer, like other governors and mayors nationwide, acted with new lockdown measures after coronavirus pandemic cases took off. Some one million people tested positive in the prior week, bringing the national total to more than 11 million. Cumulatively, almost 248,000 have died.
The more-widespread threat, against the entire state of New York, came from Trump himself, in his first live press conference in weeks, on Nov. 13. Cuomo had announced the state would convene its own panel of infectious disease experts to double-check the effectiveness of any potential vaccine the Trump regime touts. Trump blew up.
"As soon as April, the vaccine will be available to the general population, with the exception of places like New York State, where for political reasons, the governor… wants to take his time with the vaccine. He doesn't trust where the vaccine's coming from," the Oval Office's defeated occupant declared.
"That's just Trump talking," Cuomo told Brzezinski. "He's gonna be gone. I just think we spend too much time trying to delve into the bizarre world of Trump. He doesn't like that I criticize him. He doesn't like that I stand up to him. He's a typical bully."
"It's not me who doubts the FDA," Cuomo added. "It's 50% of the American people," he explained, citing four recent public opinion polls. Left unsaid: Trump's pronouncements, including his advocacy of fake cures and his refusal to listen to science, led to such doubts.
Gov. Kate Brown, D-Ore., closed gyms and other gathering places and limited crowds to no more than six people. Gov. Jay Inslee, D-Wash., shut down restaurants, gyms, and similar gathering sites. On Nov. 12, Gov. Larry Hogan, D-Md., limited restaurant capacity and gatherings to 25 people.
"The sad truth is the next several months will likely be by far the most difficult we have faced," Hogan warned, as winter weather drives people indoors.
In Chicago, where the rate of people testing positive has hit 18 per 100—in a city of 2.6 million—Mayor Lori Lightfoot imposed stay-at-home orders, except for work, going to school, seeking medical care, shopping for groceries, or picking up takeout food. She also limited funerals, weddings, birthday parties, and social events to 10 people. Surrounding Cook County imposed similar restrictions for 30 days.
That includes Thanksgiving, and Lightfoot told people to stay home.  So did Whitmer. "Just because you can do something doesn't mean you should," she said.
But the problem Trump unleashed goes beyond mistrusting the FDA or his threats.
"You can't have 50 states taking 50 different approaches" to battling the virus," the University of Washington's leading infectious disease specialist told Brzezinski. "In some states—North Dakota, South Dakota, Iowa—there's been no approach at all." Not coincidentally, Trumpite Republican governors run all three.
The FDA may have a few words to say soon, though. But Trump gets in the way there, too.
A second pharmaceutical firm, Modena, announced that a preliminary clinical trial of its experimental anti-coronavirus vaccine showed it was 94.5% effective in preventing initial infection. And unlike the first such announcement, from Pfizer the week before, Modena said its vaccine just needs to be kept cool, not constantly chilled to 90 degrees below zero Fahrenheit.
But both vaccines need further clinical trials, and FDA approval even for test runs, before they can be used to vaccinate—via two shots—first responders and then the general population.
And those trials could be delayed because Trump refuses to officially concede the 2020 presidential election to Democrat Joe Biden, who won. Without a concession, the Biden transition team can't enter the FDA and discuss vaccine trials, or anything else, with staffers and officials there.
Like free stuff? So do we. Here at People's World, we believe strongly in the mission of keeping the labor and democratic movements informed so they are prepared for the struggle. But we need your help. While our content is free for readers (something we are proud of) it takes money — a lot of it — to produce and cover the stories you see in our pages. Only you, our readers and supporters, can keep us going. Only you can make sure we keep the news that matters free of paywalls and advertisements. If you enjoy reading People's World and the stories we bring you, support our work by becoming a $5 monthly sustainer today.