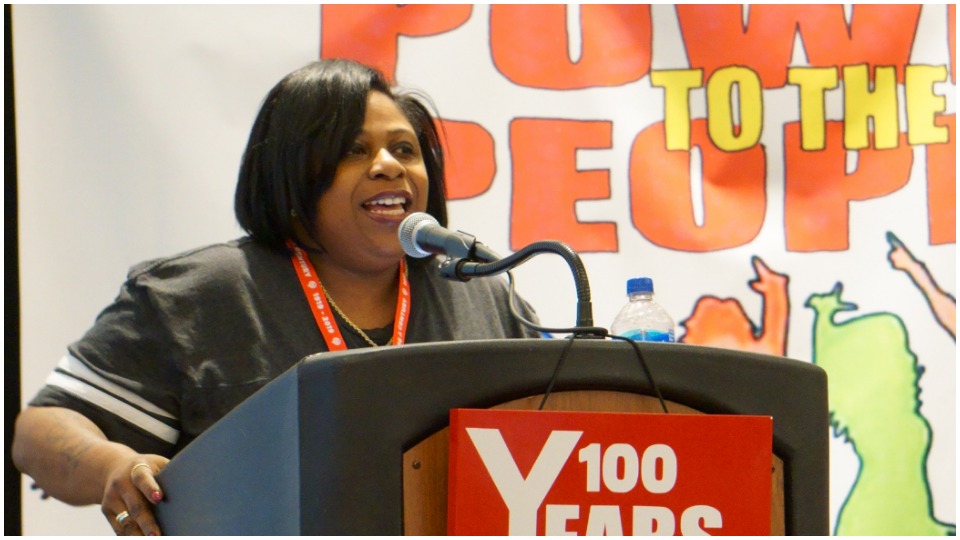 CHICAGO—Hundreds gathered here this past weekend to celebrate the 100th anniversary of the Communist Party USA (CPUSA). The party's 31st National Convention was held at the University of Illinois campus in Chicago and ran for three consecutive days. The event featured a variety of speakers, such as Samaria Rice, the mother of Tamir Rice, who was slain by Cleveland police in 2014, Chicago activist Pepe Lozano, CPUSA national chair John Bachtell.
Guests from several countries were also in attendance, and workshops discussing various aspects of the current political climate were scheduled for delegates. The many artists, community organizers, and CPUSA veterans participating placed much of their emphasis on uniting the forces needed to defeat Trump and the Republican Party in the upcoming 2020 election.
In the first of several workshops on Friday, titled "Unity Against Special Oppression; For equality and democracy," focused on the ways in which communities can resist the racist and divisive policies implemented by the Trump administration and work together to build stronger communities. Featured speakers on the panel, included party members Joe Henry, Cori Marshall, and UNITE HERE Chief Steward Barbara Vereen.
Discussion topics ranged from protecting immigrant communities and the denial of reproductive rights to increasing voter turnout. Joe Henry, who serves as the National Vice President of the League of United Latin American Citizens (LULAC) for the 12 states that comprise the Midwest region, focused on the numerous threats currently facing immigrants. "We need to push for legal status of all immigrants," he asserted, "not just DACA recipients."
In addition to hearing from panel experts, the workshops also included an interactive component that encouraged participants at the convention to discuss tactics and share best practices with one another. Delegates and guests were given 25 minutes to strategize around direct action initiatives, comparing and contrasting the organizational tactics of different chapters and states. Several attendees shared their groups' findings after the brainstorming session. Some groups talked about voter suppression and the need to make polling places more accessible to working-class people. Others expressed the need to push for state-level policies that protect migrant communities from the Trump administration's vicious attacks.
One Illinois delegate, who wished to remain anonymous, told fellow participants in a table discussion that he feared for his family's safety. "My wife is undocumented, and we're terrified of what is about to happen," he said. His comments were a response to Trump's plan to deport "millions" of undocumented immigrants in various major cities, supposedly scheduled to start last Sunday. The threat has since been "shelved" by the president in order, he claims, to see if Democrats and Republicans can reach some kind of compromise on "problems at our Southern Border."
The Communist Party is comprised of members from all walks of life; many come from working-class minority communities. While the CPUSA prides itself on being a champion for democracy, labor rights, women's equality, and racial justice, the party also advocates creating movements that center marginalized voices. Panelist speaker Barbara Vereen, for instance, emphasized the importance of intentionally uplifting women in the movement. "Be inclusive to the point where it makes you uncomfortable," Vereen said, highlighting her experiences as a Black woman in leftist spaces.
Vereen also encouraged convention delegates to reframe the way they think about diversity and inclusion, noting that Black women need to be put in leadership positions—not just included in discussions. "Hold outside organizations accountable, but let's also hold ourselves accountable." Her remarks were met with applause.
While creeping fascism continues to permeate all corners of our governing system under Trump and far-right Republicans, the Communist Party is committed to fighting back with full force. Its members vowed to work to build unity between those most exploited and oppressed within the working class. With socialist and Marxist ideologies garnering increased interest and popularity, this "people's party" is ready to tackle the upcoming election. Despite immigrant deportations, the forcible separation of immigrant families, voter suppression, and threats against women's reproductive rights, the CPUSA convention showed that the working class continues to thrive in the face of remarkable odds.