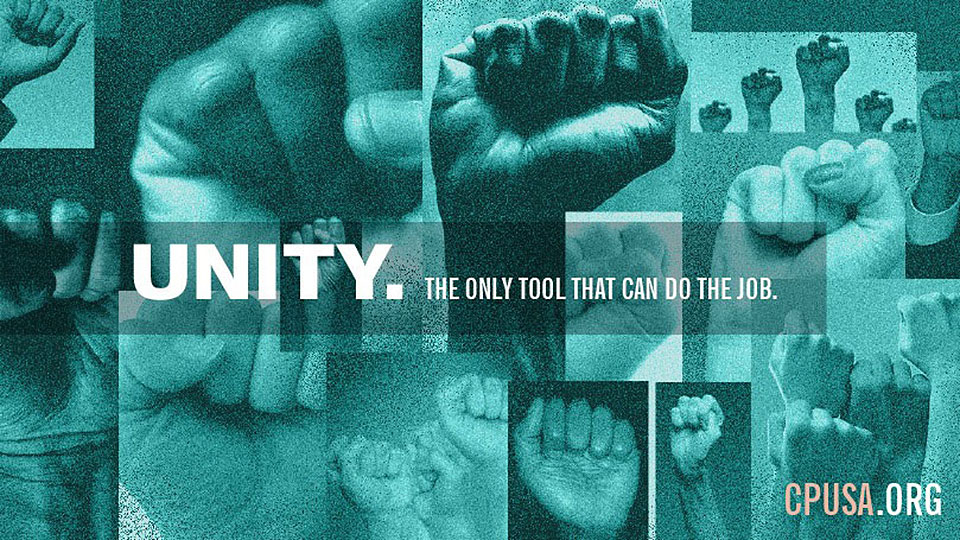 NEW YORK—"Millions are standing up for universal health care and basic safety on the job. Millions are demanding necessities like food, housing, and unemployment insurance, and defending democracy," said Communist Party USA co-chair Rossana Cambron at the launch of the oganization's Spring Fund Appeal on May Day. "The CPUSA is a vital part of this fight."
The CPUSA's fund drive, which runs May 1-8, comes as the global pandemic and economic crisis lay bare the inability of capitalism to provide for basic human needs. The CPUSA is experiencing an influx of new members in response to the twin crises.
Members and supporters are encouraged to make donations, and members are being asked to renew their membership by making dues payments. The appeal is part of building community and solidarity during times of social distancing and crisis.
In September last year, the CPUSA marked its 100th anniversary and the celebration is continuing with the spring appeal. The party is asking its supporters to donate $100 for 100 years. The theme of the appeal is "#CPUSA100: Vision. Unity. Action. To build a better world."
The funds will help the CPUSA build its communications platforms to reach bigger audiences, support grassroots coalition-building efforts to defeat right-wing extremism during the 2020 elections, and expand online Marxist education.
"This is really the time to give to the Party," said Zenobia, a veteran health care worker and activist from St. Louis. "The pandemic is causing illness and death, and my community, the African-American community, is experiencing a disproportionally high mortality rate. The answer to this is unity and the fight for a socialist future, and a growing Communist Party," she said.
"The pandemic has opened eyes and ears that may not have been seeing or listening before. This is particularly so when it comes to vulnerabilities in the health care system," said the chair of a Party club in New Jersey. "The comments of Trumpists and ultra-right extremists about grandparents being willing to give up their lives for the economy epitomizes the callousness that is at the center of capitalism."
CPUSA volunteers will be calling people to check on their wellbeing and to encourage donations. Those who contribute $100 or more will receive a copy of the book, Let Them Tremble: Biographical Interventions Marking 100 Years of the Communist Party, USA, by Tony Pecinovsky. The book is a collection of six biographies exploring unique and often neglected aspects of the Communist Party, USA. The subjects are CPUSA leaders Arnold Johnson, Charlene Mitchell, Gus Hall, Henry Winston, Judith LeBlanc, and W. Alphaeus Hunton.
Contributions can be made online at CPUSA.org by clicking "Donate" or by mail (checks or money orders made payable to CPUSA) to:

CPUSA
235 West 23rd Street, 7th Floor
New York, NY 10011