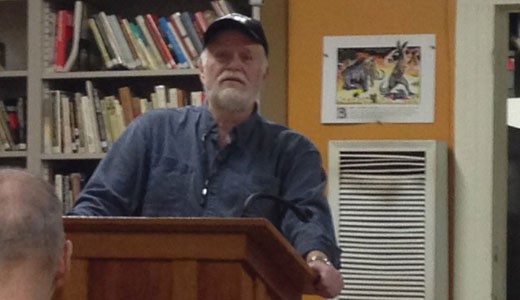 OAKLAND, Calif. – A crowd filled the Niebyl-Proctor Library here Jan. 26 to hear union and community activists tell about local struggles and achievements and to hear Communist Party Labor Commission Chair Scott Marshall's take on how he sees these issues fit into the macro-challenges facing labor movement today.
The Oakland gathering, and the Labor Commission conference which brought people from all over the U.S. to Los Angeles the previous weekend to discuss the shifts facing labor unions and the strategies with which they are responding, are precursors to further discussions slated to take place all around the country in the coming year.
A key to understanding this time of transition, Marshall said, is to look at the phases that labor struggles have gone through in U.S. history. Just as Eugene Debs took labor to a qualitatively different form by organizing the railroad workers, and William Z. Foster in his turn transformed labor unions with the formation of the T.U.E.L. and the T.U.U.L., eventually bringing the force of industrial unionism to the C.I.O., likewise labor is now looking toward a new form, which Marshall refers to as "big-picture unionism."
In beginning to talk about a changing phase for labor, it is necessary to look at the weakened position of labor, as part of its objective conditions. Offshoring, automation and other changes in manufacturing have put traditional industrial unions at a disadvantage in pursuing tried-and-true methods of bringing improvements to the lives of rank-and-file workers. The old ways of applying pressure to monopoly's profit-seeking have diminished in effectiveness, while the bread-and-butter issues that union members face have hardly diminished.
In "big-picture unionism" the issues that each union faces need to be seen in the context of a global system. Unions must, meanwhile, also look at how forming coalitions with other affected groups outside of their membership can bring wins not only for labor, but also for the local communities affected by the vagaries of capitalism.
This local vs. global approach has the advantage of accumulating force both horizontally and vertically: horizontally along the net of communities that live alongside the union and struggle alongside union families and also vertically along the length of the production supply chain.
Church groups, civil rights groups, community organizers and their coalitions are forming permanent ties with labor to press not just on working-place issues, but also on problems that affect democracy in the entire community. An example of this is found in the present AFL-CIO program that will take up three points this year: 1) sequestration, 2) voting rights, and 3) immigration reform.
Vertically, labor is looking across the globe to organize throughout the supply chain for a product. In "big-picture unionism," labor would look not just at the workers in the factory making tires, but also at the farmers who harvest rubber for the tires. While Walmart workers have been organizing domestically, textile workers in Bangladesh, making garments to be sold in Walmart stores, suffered through a terrible factory fire. Now Walmart workers in the U.S. are in solidarity, and fact-finding talks, with the surviving textile workers in Bangladesh. Wage workers in different industries but working for the same corporation transnationally can better lock together to bring increased pressure on access to raw materials, and the supply and distribution of products.
Bread-and-butter issues for labor are still important, and not to be underestimated in the fight to bring forward more space to struggle for democratic advances. However, it is time to go beyond the "circling the wagons" mentality of the last 30 years and to bring the unorganized, the unemployed and the oppressed international workers along in our labor struggles. It is time to provide for an extended, permanent, fortified role.
The old model of short-term alliances for immediate goals is giving way to a new model: one which focuses on relationships that carry on after one victory is achieved.
Photo: Scott Marshall speaking at the West Coast forum. Michelle Kern/PW