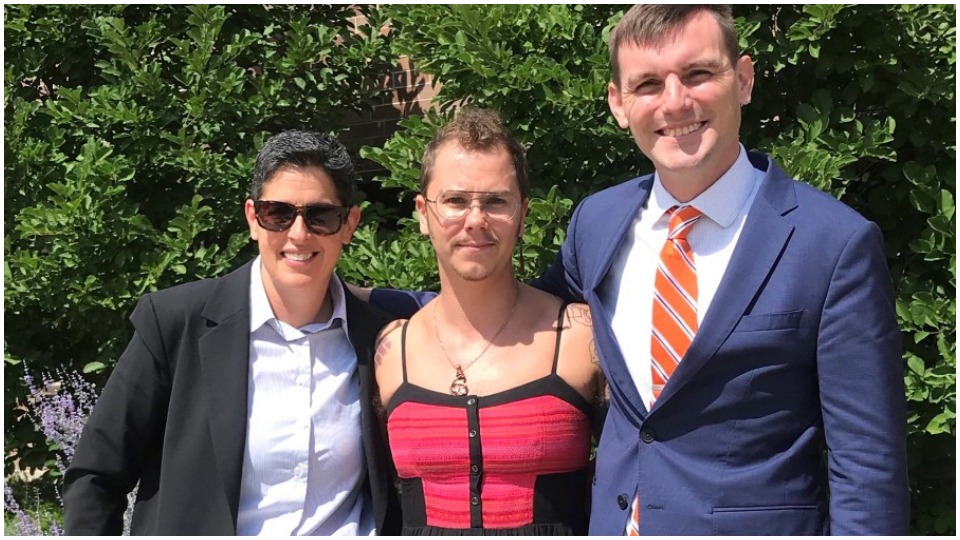 CHICAGO—The Cook County State's Attorney's Office has officially agreed to drop all criminal charges against Lee Dewey (they/them) a Slutwalk participant who was arrested in August 2017 after police became increasingly hostile with a crowd of peaceful protesters. Now a little over a year later, Dewey's legal team, represented by People's Law Office attorneys Joey Mogul and Brad Thomson, was pleased to announce that their client would be given a plea deal.
The initial arrest took place last summer during Chicago's annual Slutwalk, an event aimed at commemorating victims of sexual assault and speaking out against the ongoing rape culture epidemic. There was national media attention after five demonstrators were arrested. During the march, a Chicago police officer grabbed Dewey's bicycle, causing both Dewey and the officer to fall to the ground. Witnesses stated that several officers assaulted Dewey by stepping on their back and head while they were already handcuffed on the pavement.
Dewey sustained several injuries during the encounter, including an open cut. It was only after being transported to the police station that Dewey was able to disclose their HIV+ status and was then escorted to a medical facility. Of all five detainees, it took Dewey the longest to get processed and released. The Chicago Community Bond Fund was able to post the $10,000 needed for Dewey's $100,000 D-bond.
In the aftermath of the arrest, an officer claimed that Dewey had attempted to "bite" him during their altercation, resulting in criminal charges. Dewey was charged with aggravated battery on a police officer for allegedly biting the officer on his ankle and resisting arrest. If Dewey had been convicted of the battery charge, a Class 2 felony, they could have been sentenced to serve 3-7 years in prison.
Dewey's attorneys were able to obtain video from the body cameras worn by officers at the demonstration, however, and successfully argued that "the footage demonstrated clearly that Lee did not bite or attempt to bite any officer."
Dewey was also the only person arrested at the Slutwalk 2017 who was charged with felonies. "All the other individuals arrested were charged with misdemeanors or ordinance violations, and their cases were resolved with fines and/or community service."
The unusual charges did not go unnoticed by HIV advocacy groups, who claimed that this was a clear case of transphobia/homophobia on the part of Chicago police. "Lee's charges in this case fit into a disturbing pattern of cases nationwide where LGBTQ people and people living with HIV/AIDS have been falsely charged or over-charged based on their gender identity, sexual orientation, and/or HIV/AIDS status."
Additionally, the defense committee was able to secure the support of 30 local and national LGBTQ and HIV/AIDS advocacy organizations. Among those on the list: SlutWalk, Chicago Community Bond Fund, National Lawyers Guild, Trans Liberation Collective, Black & Pink, Dyke March, Howard Brown, and Center on Halsted. The outpouring of community support played a major role in the State's Attorney's final decision to drop all criminal charges.
As part of the negotiated deal, Dewey pleaded guilty to violating the Chicago municipal ordinance regarding public assembly (a non-criminal offense), and in exchange, all their criminal charges were dropped. Dewey was ordered to pay a $200 fine and complete "community service," a requirement that was listed as fulfilled on their forms due to their organizing they have done as the lead organizer of CommunityCave Chicago.
With the worst part behind them, Dewey says they are excited to return to their life without the threat of prison hanging over their head. In a public statement following the news, they thanked all those who supported the #FreeLee campaign, saying, "All of my love and appreciation to my family, friends, communities, and comrades."
In the meantime, Dewey continues their activism work and hopes to uplift those who have shared similar struggles with the justice system, reminding supporters that "positive radical change is not only possible, it is necessary, and together we will change this world."