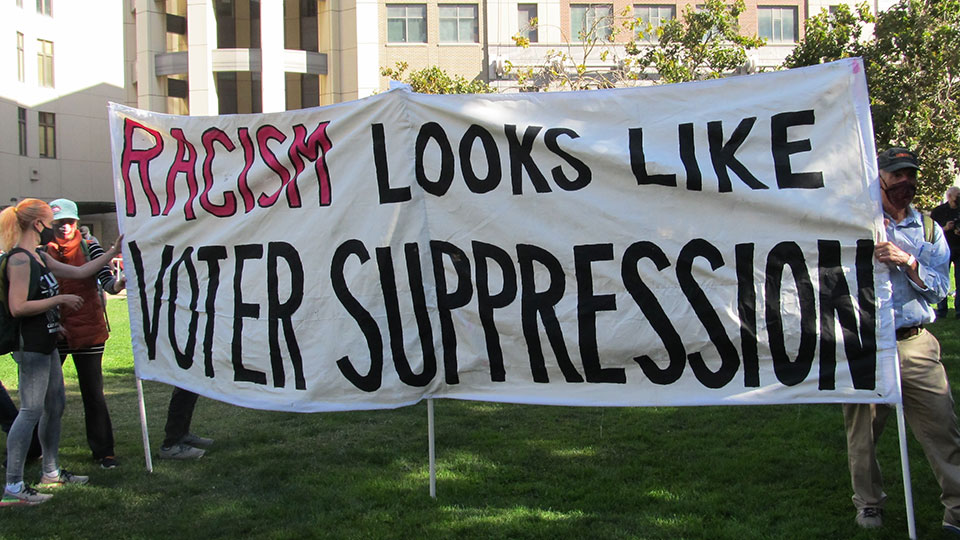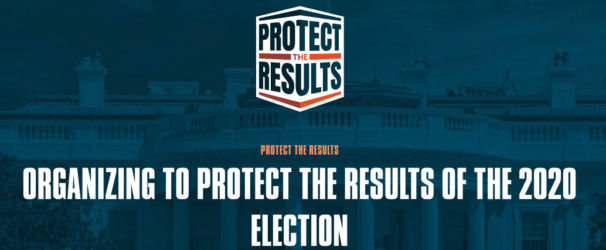 OAKLAND, Calif. – Over a thousand masked, socially-distancing people filled City Hall's Frank Ogawa Plaza Nov. 4, joining labor, faith, and community speakers demanding that every vote is counted and democracy is upheld.
Among over 60 organizations helping to organize the event: SEIU Local 1021, Ella Baker Center for Human Rights, AFSCME Local 3299, Arab Resource and Organizing Center, Chinese for Affirmative Action, Communities United for Restorative Youth Justice, Oakland Education Association, One Fair Wage, Bay Rising, and the Sunrise Movement.
Speakers stressed the importance of staying connected and active in the movement to uphold democracy and fight back against all forms of political, racist, and economic repression.
Nikki Fortunato Bas, City Councilmember representing Oakland's District 2, told the crowd, "There's a lot that we're feeling – anxiety, pain, so many feelings. And one reason I think this election, at the national level, is so close is because it has laid bare that systemic racism and white supremacy pervades this country."
Calling for a continuing, concerted pushback to defeat fascism and win racial and economic justice, Bas urged the crowd to keep up the work that has marked the 2020 election campaign. "Each one of you is an organizer," she said. "My message to you today is that we have to ensure that everyone's voice in this election is heard and respected, continue to love and defend each other, and make sure we organize!"
"Lady Chi," a leader in One Fair Wage, emphasized the front-line role played by restaurant workers: "I have been an essential service worker in the Bay Area, in restaurants for most of my life. But I didn't know I was 'essential' until now."
As millions of her fellow workers lost their jobs because of COVID 19, she said, some 60% were not eligible for unemployment, because most of their income came from tips and they were not covered by a minimum wage.
"You have to go back to work," she said. "So here you are, putting your life on the line, having to enforce mask mandates to the people you depend on for your income."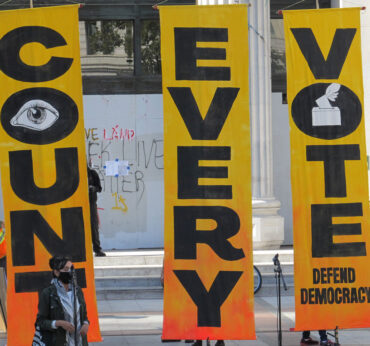 Besides organizing strikes across the nation to highlight their situation, Lady Chi and her fellow workers are using their votes to demand health and safety protocols before they go back to work as restaurants and bars reopen. "And what we're consistently seeing is that when service workers vote, protections, wages get passed … We say we want One Fair Wage, protections for all essential service workers, and that our voice must be heard."
Jovanka Beckles, former Richmond City Councilmember now well in the lead for an AC Transit Board of Directors seat, told the crowd, "We're the only ones who can make sure every vote counts, every vote gets counted." She urged everyone present "to keep organizing, mobilizing, protesting so that happens."
Said Megan Nguyen, an organizer with the Sunrise Movement of young people uniting to stop the climate crisis, "We know it's not over until every single vote is counted, every voice is heard, that our votes and our communities matter … This is all made possible by movements, organizers, people like you. There are so many of us and so few of them. If we combine together with our people power, we can win!"
As he prepared to open the event with a ceremonial prayer honoring the indigenous Ohlone heritage of the land on which the gathering took place, George Galvis, executive director of Communities United for Restorative Youth Justice, reminded participants, "I'm a reflection of you, and you're a reflection of me – we're all related … We will put our minds together" and "imagine what kind of future we want for our children and for the next seven generations."
Added Lara Kiswani, director of the Arab Organizing and Resource Center, "Be ready to show up for each other, defend one another, protect one another, be part of an international community against fascism, militarism, racism, white supremacy, patriarchy. We are in this together, and we will win!"
Waving hands high in the air, rally participants signaled they are ready to respond as needed in coming days.