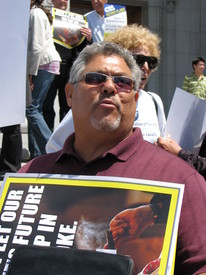 SAN FRANCISCO ― "Cutting services is not a quick fix. We need to tax the big oil companies, we need to restore the vehicle license tax. We need to increase revenues, we can't live off cutting services for those who need them the most." Fidel Valenzuela, a community organizer with the Hayward-based Community Resources for Independent Living, was in the crowd outside California Gov. Arnold Schwarzenegger's office here, with a delegation from his organization.
With the governor and legislative leaders reportedly near agreement to close California's $26.3 billion budget gap, unionists, seniors, teachers, parents, children and members of the disability community also gathered at the governor's offices in Sacramento, Fresno, Los Angeles and San Diego to demand that any budget agreement uphold services for state residents.
The theme of the rallies, initiated by the California Labor Federation and labor councils, was "Don't Let our State's Future Go Up in Smoke" ― a takeoff on Schwarzenegger's statement to The New York Times Magazine earlier this month that despite growing desperation over the budget crisis, "I don't walk out of here depressed … I will sit down in my Jacuzzi tonight. I'm going to lay back with a stogie."
Valenzuela said cutbacks in services are impacting the disabled Californians his organization serves "about 50 percent. "They might not get three meals a day, they might not make it to vital doctors' appointments because they might not be ready in time to access transportation." As a result, he said, people who have been able to stay independent for many years with help from In-Home Supportive Services and other programs could end up in nursing homes, costing the state far more in the long run.
Also in the crowd was Cary Sanders, policy analyst with the California Pan-Ethnic Health Network and director of the Having Our Say coalition. A specially worrisome proposal, she said, is privatization of enrollment for MediCal, the state's Medicaid program. "Among the communities we represent are people who speak many different languages, immigrants with special concerns, and people who can't easily do their paperwork online," Sanders said. "Our communities tend to be English-limited and to have complex situations."
Sanders noted that when a similar scheme was tried in Texas, hundreds of thousands of children fell off the rolls in the first few months. "It all comes down to the governor," she said. "He could step up and take leadership, and realize we can't just make cuts."
The rallies followed months of budget paralysis in the only U.S. state requiring a two-thirds legislative majority both to pass a budget and to raise taxes. Democrats, whose majority falls short of that in both Assembly and Senate, advocate balancing cuts with new revenues to offset a deficit swollen by the economic crisis. But the minority Republicans, and the governor, have rejected any new revenues, even refusing to restore the vehicle license fee to the level in the 1990s under Republican Gov. Pete Wilson. California is the only oil-producing state that doesn't tax oil extracted within its borders.
San Francisco City College teacher Ed Murray told the rally Schwarzenegger's proposed education cuts would "steal millions of dollars from our public school and community college students. We know our students are the future of our state," he added. "In simple terms, the governor is killing the goose that laid the golden egg."
"Hey, Arnold, it's no joke," the crowd responded. "Don't let our state go up in smoke!"
mbechtel @ pww.org