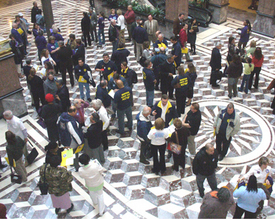 "Stand Up for Health Care!" may be the largest rally in Connecticut history, May 5, as residents in the state struggle with a broken health care system that has reached crisis proportions.
Last week more than 350 union members representing workers in manufacturing and public and private service industries filled the State Capitol in support of universal health care. Cheers went up when the Government Administration and Elections Committee voted in favor of SB 1371 to establish the "Connecticut Saves Health Care" single-payer program for universal coverage.
Speaking in Spanish, school bus driver Evelyn Vega, a member of the Service Employees union, told of being forced to work while sick, having a mini-stroke while driving school children that day, and returning to work before full recovery in order to pay for medications and other bills.
"The Legislature needs to know that workers are making decisions between their health and their jobs," she said. "The real value of fixing our broken health care system is truly priceless."
Stories like Vega's are being circulated to organize grassroots pressure for action before the Legislature's June 6 adjournment.
Business opponents are running a vicious scare campaign, claiming the proposal is unacceptable because of the projected $18 billion cost.
But Majority Leader Chris Donovan told the crowd, "The cost of health care now is $22 billion. With single-payer we could save $4 billion and cover everybody with a good plan."
In addition to unions, civic groups and clergy representing all denominations and communities are organizing busloads for the May 5 rally, set for 11 a.m. to 1 p.m. in Hartford's Bushnell Park, outside the Capitol.
Citizens for Economic Opportunity, which organized Labor for Universal Healthcare, will receive a People's Weekly World Newsmaker Award on Sunday, May 6 at 4 p.m., at 37 Howe Street in New Haven, at the "Healthcare Not Warfare" May Day celebration.
Also receiving Newsmaker Awards will be Connecticut Opposes the War, a statewide coalition of unions, faith-based groups, community organizations and local elected officials against the war in Iraq; and La Paloma Sabanera, an activist coffeehouse in Hartford. SEIU 32 BJ Justice for Janitors and workers organizing at New England Linen will receive solidarity recognition.
Guest speaker Tim Wheeler, national political correspondent for the People's Weekly World, will offer a first-hand view of the struggle being waged in the new Congress to end the war and win health care and union rights. Contributions will be accepted for the paper's fund drive. For more information on the "Healthcare Not Warfare" May Day celebration or the Stand Up for Health Care rally, call 203-624-8664.
joelle.fishman @ pobox.com