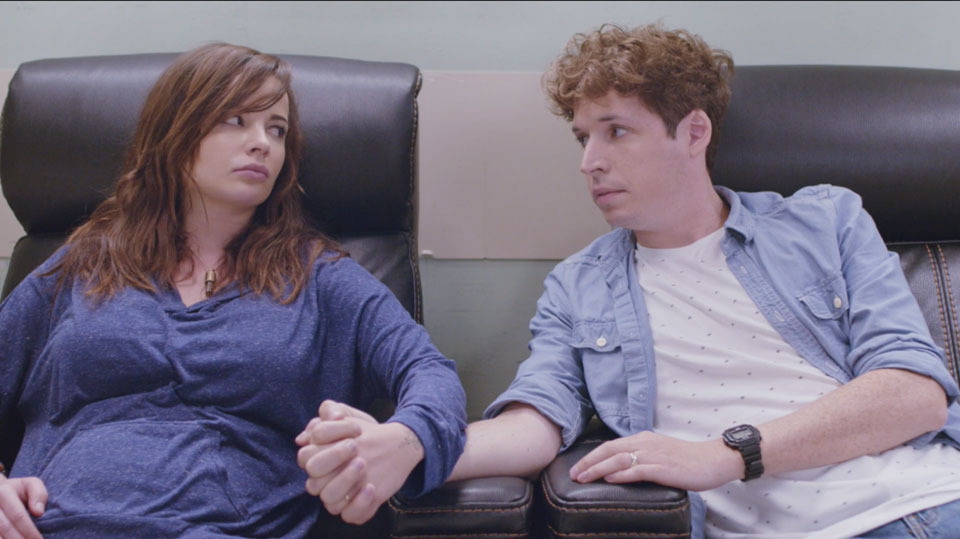 An office comedy—set in an abortion clinic. That's the main concept of the returning short form series CTRL ALT DELETE. The idea is extremely relevant in our current political climate, which features a full-fledged attack on reproductive health rights. The series, with its second season debut this year, seeks to normalize the idea of abortion with levity and balance, while incorporating the office comedy formula that is a beloved standard in mainstream entertainment.
Self-described as a pro-choice comedy, the series was co-created by Roni Geva and Margaret Katch. The first season of the series, which was independently produced, received a number of accolades and awards, including a 2018 Emmy nomination. Season two features Ed Begley Jr. (Ghostbusters), Naomi Grossman (American Horror Story: Apocalypse), Rosalyn Coleman (Vanilla Sky), Alice Lee (Take Two), Kate Duffy, Rachel E. Crane, and Ashley Rickards (Awkward).
Each episode of season one zeroed in on individual women and their stories of abortion, their common denominator being the abortion clinic they went to. The eight-episode season two gives viewers more of a look into the day-to-day antics of the staff of the clinic itself, while again highlighting a number of stories of the diverse women who come in for a procedure.
A number of aspects work well within the framework of CTRL ALT DELETE. The diversity of the cast, along with the different aspects of the characters they play, meshes together well to give a number of angles surrounding the issue of abortion access. Some of the staff treat working at an abortion clinic as any other job that comes with its trials, tribulations, and benefits. Other employees give mini speeches amplifying the reproductive rights advocacy intertwined in the clinic mission. There's workplace drama, budding romances, and comedic antics that we get to witness as we journey through a day's work at an abortion clinic. There's even outside so-called "pro-life" protestor characters featured, and the threat of a bomb in the form of a pizza box.
The episodes also do well balancing the sillier moments with the more serious issues. Some of the conversations, such as the age at which a woman can still get pregnant, are played for more laughs than others, but each one is given some aspect of humor. The key way it is done is not to make fun of the scenario, or light of the abortion procedure itself, but to clearly showcase that these are everyday people in a variety of scenarios that actually do happen in reality. The approach gives permission to laugh with these characters at times—and cry with them if the emotion calls for it.
A standout performance of season 2 is given by Ashley Rickards, who plays a young woman who is fifteen weeks along in pregnancy and has found out that there is something wrong with the fetus. She and her partner visit the clinic in order to terminate the pregnancy due to the extremely low chance of survival if the pregnancy is brought to term. Rickards displays a wide array of emotions given the fact that her character wanted to get pregnant but now finds herself needing to have an abortion. Heartbreaking points but also moments of laughter break through, giving a different perspective on what might be seen as a tragic end to a story, rather than simply a detail of one's life.
Another highlight of the series is the way it intertwines facts and statistics into the dialogue without coming off as a stoic educational video. The viewer is bound to learn things regarding reproductive health while watching, but it's done in a way that doesn't feel too on the nose.
The one drawback to the series, which doesn't necessarily count as a negative but a testament to its value, is the length. Viewers will be able to binge the second season (and the first if they want to catch up) in under an hour, as each episode is no more than five minutes long. With interesting characters, fun dialogue, and truly funny comedy, the audience will want to sit with the staff of this clinic a lot longer than is allowed to see what else they get into.
A major trait of the series is the way tackles topics surrounding abortion, an approach that may come off as taboo. Although there's currently a political fight surrounding a woman's right to choose what to do with her body, moral arguments can get thrown in from both sides. While some advocate for abortion access, they may place conditions and restrictions on what is "allowed" or "right," as well as how often or when a woman can get an abortion procedure. The series doesn't treat getting an abortion as a tragic tale that should be allowed but also shamed and kept secret. Instead, it aims to portray the act of going to an abortion clinic as equivalent to any doctor's office visit. The message is that abortion access is a form of healthcare and should be treated as a normal right rather than a special interest vulnerable to attack and debate.
As the new season of the show premieres, there have been 304 abortion restrictions of various kinds introduced in states across the country in 2019 alone. Louisiana has become the fifth state to pass a fetal heartbeat ban, joining Georgia, Kentucky, Mississippi, and Ohio, which have all passed bills seriously restricting a woman's right to safely terminate a pregnancy. The last abortion clinic in Missouri, Planned Parenthood of the St. Louis Region and Southwest Missouri, is currently under threat of being shut down, while the state enforces unnecessary and intrusive pelvic exams for any woman seeking to have an abortion.
The assault on Roe v. Wade is no longer a will-o-the-wisp pipe dream of the "pro-life" crowd now emboldened by the hard conservative majority on the Supreme Court. A show like CTRL ALT DELETE is a necessary one as art is a means to bring messages to the masses. The message the series transmits helps to counter the rhetoric aimed at dismantling rights fought for over long decades by women and allies to decide what goes on with their bodies and lives.
Season 2 can be watched here.