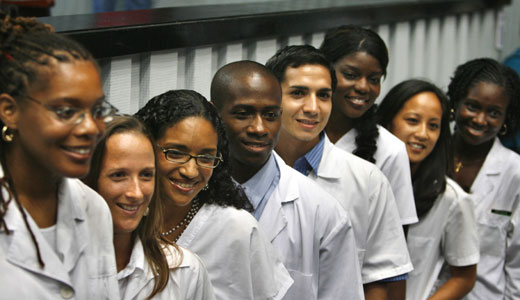 On January 1, Cubans 2014 marked the 55th anniversary of their revolution's victory. Fidel Castro's words spoken May 1, 2000 cropped up in President Raul Castro's speech in Santiago de Cuba. Revolution, they said, is "to believe deeply there's no force in the world capable of crushing the force of truth and ideas."
Commentator Ángel Guerra Cabrera recalls one idea: "To understand the conflict between Cuba and the United States it's necessary to study Latin American history. It shows the superpower has never tolerated our countries developing internal or external politics separate from its dictates."
Raul Castro articulated another: "[N]ew generations of leaders … never will be able to forget that this is the socialist Revolution of the humble, by the humble, and for the humble. This is the essential premise and effective antidote for not falling for the siren songs of the enemy."
Political talkers sometimes label ideas as utopian, among them that of ending the anti-Cuban U.S. blockade now. "Cuba [however] is still embracing utopia in year 55 of the triumph of its revolution," affirms Guerra Cabrera.
U. S. defenders of Cuban independence could do with truth and ideas, or at least new ones. On their watch, "Cuba has suffered under the longest blockade in history." Objective realities in the two countries may vary enough for Cuba's U. S. friends to accept what they see as truth as allowing for small gains only, and waiting. By contrast, Cubans seem to take the realities they live with as encouragement for keeping on. Indeed, there are "55 reasons for a new anniversary," says one observer. They would fit within Fidel Castro's notion of the "truth." A listing follows:
Cuba's infant mortality rate is at a new low: 4.2 babies died during 2013 out of every 1000 births. Average rates for the region remain at around 30. Maternal mortality has dropped, and life expectancy at 77.9 years matches that of industrialized nations. Physician density in Cuba is one physician for 197 persons, one of the world's top rates. That doesn't include 40,000 Cuban physicians serving abroad in 70 countries.
Universal education and health care are intact; 1,993,300 students from preschool through university level will be enrolled in 2014, and eighty million physician consultations are anticipated, plus 22 million visits to dentists and 1.140.000 hospital admissions.
The United Nations Program in Human Development ranked Cuba 59th overall out of 187 countries. UNESCO's 2011 Education for All Global Monitoring Report had Cuba as 14th in the world. Health care expenses consumed 22 percent of Cuba's 2013 state budget, education 27 percent. Cuba's 54 percent current budgetary allowance for social services is among the world's highest. Only 30 countries share Cuba's below-five percent unemployment rate.
Cuba maintains its outsized role in international solidarity. Two thousand teachers work abroad. Cuba's "Yo sí puedo" literacy program has benefited eight million learners in 29 countries. "Operation Miracle" has restored sight for two million people worldwide. By 2011, the Latin American School of Medicine had graduated 9,960 new doctors from 58 countries. Tens of thousands of other medical students and graduate physicians study in Cuba.
Economic readjustment is proceeding. A new Labor Code became law following discussions among almost three million workers. State businesses, newly autonomous, are on track to increase exports and reduce imports. Mariel is the site of a new "Special Development Zone" directed at promoting foreign investment, exports, jobs, and fostering modern business technologies. New patterns of land use and agricultural marketing prevail.
Some 400,000 Cubans are recently self-employed without loss of social services. Over 250 new cooperatives are functioning. Cuba's economy maintains a three percent rate of growth. Russia recently agreed to forgive 90 percent of Cuba's $29 billion debt incurred during the Soviet era. Provision of electricity has improved through the use of new generator facilities.
Cuban diplomats joined the United Nations Council on Human Rights in 2013. Cuba that year served as president pro tem of the Community of Latin American and Caribbean States that includes all Western Hemisphere nations save Canada and the United States. During 2013, Cuba hosted peace talks between the Colombian government and the insurgent Revolutionary Armed Forces of Colombia.
These facts – these truths – suggest Cuba's revolution is established and continuing. In Santiago, President Raul Castro once more called for "respectful dialogue" with the United States. "We don't claim the United States has to change its political and social system, [but] we have to learn mutual respect for our differences, only that. [Otherwise] we are disposed to endure another 55 years in the same situation."
Cuba's real experiences and achievements demonstrate that big, utopian ideas can materialize. New realities add substance and serve to motivate. Fidel Castro's must have presumed listeners on May 1, 2000 were ready "to challenge powerful forces dominating inside and outside boundaries of society and the nation … defend values in which we believe at the price of any sacrifice."
That kind of commitment exercised within U.S. society could help convert utopian longings into existing facts. One would be the unrealized dream of U.S. acceptance of Cuba as a regular nation. To actually fight to change existing U. S. realities would move that dream, and others, along.
Photo: Cuban medical schools are thought of as being among the best in the world. Javier Gerleano/AP