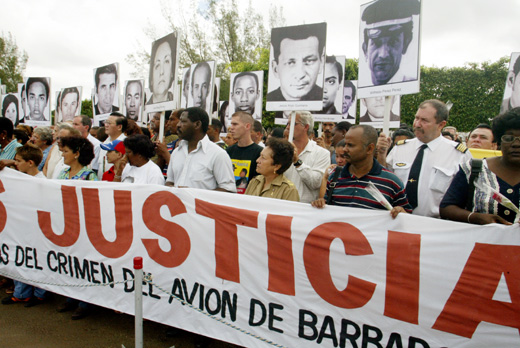 Last Saturday, U.S. military operatives carried out raids in Libya and Somalia. The raids were aimed at capturing militant Islamist leaders. Both raids were justified by Secretary of State John Kerry as being part of the right and responsibility of the United States to make terrorists accountab
Coincidentally, the raids took place one day before the 37th anniversary of a major terrorist act for which the United States has never held anybody accountable, in spite of knowing exactly where to find the perpetrators.
On Oct. 6, 1976, two terrorist bombs exploded aboard a Cuban civilian airliner, Cubana de Aviacion Flight 455, which had just taken off from Barbados. All 78 on board were killed, including the crew, the entire Cuban junior fencing team, and various citizens of Cuba, North Korea and Guyana.
The bombing was carried out by operatives of CORU (Coordinator of United Revolutionary Organizations), a coalition of violent Cuban exile organizations, whose leaders had strong ties to the U.S. Central Intelligence Agency. Two of them, Orlando Bosch and Luis Posada Carriles, had received CIA training; Posada had been on the CIA payroll until shortly before the bombing of the airliner. Another, Michael Townley, was a U.S. citizen working for the security services of the fascist Pinochet dictatorship in Chile, and was instrumental in the assassination of former Chilean foreign minister Orlando Letelier and an employee of the Institute for Policy Studies, Ronni Moffitt, in Washington on Sept. 21, 1976.
Their subsequent fates are instructive. Several were arrested in Venezuela, but managed to get out of jail. Orlando Bosch came to the United States where he was protected by then Vice President George H.W. Bush, who had been CIA chief at the time of the airliner bombing. Bosch kept up his terrorist plotting while living in Miami. He died in 2011. Posada proceeded to Central America, where he continued to plot violent acts and worked with the CIA during the Contra Wars in Nicaragua and the civil wars in Guatemala and El Salvador. In 1997, Posada was involved in a series of bombings of tourist sites in Havana, in which an Italian traveler, Fabio de Celmo, was killed. In 2000, Posada and three other Cubans were arrested in Panama with 200 pounds of explosives on their persons. Prosecutors said this was part of a scheme to assassinate Cuban President Fidel Castro while he was addressing students at the University of Panama. They were convicted and imprisoned, but Panamanian President Mireya Moscoso pardoned them, possibly at the behest of the Bush administration.
Posada eventually had himself smuggled into the United States, where he requested asylum. The federal government put him on trial, but only for immigration-related violations, not for terrorism. The prosecution was bungled and he walked free and began pushing to be made a citizen. There are indications that the failure to fully prosecute Posada is motivated by a threat that he might reveal what he knows about CIA involvement in terrorism.
Posada is living comfortably in South Florida, where he is lionized by the Cuban exile right. Venezuela and Cuba demand his extradition based on international law prohibiting countries from giving refuge to terrorists, but the U.S. refuses.
Michael Townley is living under an assumed name in a witness protection program somewhere in the United States.
Numerous terrorists were trained and deployed by the United States, in actions that led to the death of thousands of innocent people. Deeply implicated are living persons including Henry Kissinger and the two former presidents Bush. None of the officials of the CIA and other U.S. agencies who recruited and trained these terrorists and launched them into action have ever been punished for it. U.S. and international law was outrageously violated, and, in spite of Secretary of State Kerry's claim that the U.S. won't tolerate terrorism anywhere, terrorists are given refuge right here in the United States.
The U.S., however, prosecuted five Cubans who had gone to Miami to do what our own government refused to do, namely to "hold accountable" all who commit terrorist acts. The information on extremist exiles gathered by the Cuban 5 was passed to the FBI but instead of acting on it, our government prosecuted the Five, who were given draconian sentences. Four of them are still in prison, and an international movement is demanding their release.
Photo: Relatives hold signs and pictures of victims at the Colon Cemetery in Havana, at a ceremony in memory of the Cubana Airlines bombing of 1976. Cubans marking the anniversary expressed frustration and sadness at the fact that Luis Posada Carriles has yet to be punished for his involvement in masterminding the crime. Jorge Rey/AP