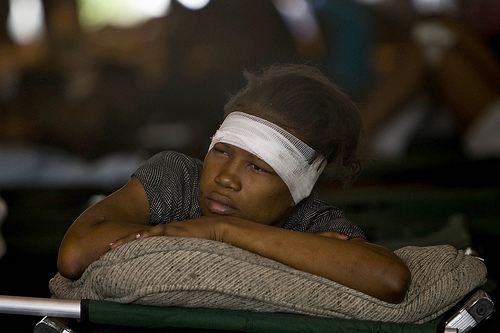 At a recent 136-nation UN conference, focused on reconstruction in Haiti, pledges from 59 nations and organizations came to $5.3 billion due within two years and $9.9 billion in ten years.
The United States promised $1.15 billion, the European Union, $1.6 billion.
The eight ALBA nations (Bolivarian Alliance for the Peoples of Our America) pledged aid worth $2.42 billion over six years, most of it from Venezuela.
The Haiti Recovery Commission that materialized is chaired by UN Envoy for Haiti Bill Clinton and Haitian Prime Minister Jean-Max Bellerive. It will be supervised by the World Bank. Members include Haitian officials and representatives of countries donating $100 million or more.
ALBA strongly protested recovery quarterbacking by the World Bank. Rather than utilize the UN system, Venezuela will divide its assistance between funds it sends to Haiti directly, and services the country provides for housing, infrastructure, education, agriculture and health care. Cuba will also provide badly needed health services.
Cuba plays an outsized role in Haitian health services — before, and certainly after, the devastating earthquake. Cuba has played such an major role, and Haiti has such serious needs in that area, that at the donors conference a high-level sideline meeting took place between Cuban Foreign Minister Bruno Rodriguez and U.S. Secretary of State's Chief of Staff Cheryl Mills. It was the highest level meeting between the two nations in years. "Cuba has volunteered significant assistance in the health sector" and seeks implementation "in a coordinated fashion," the State Department's P.J. Crowley said in a press conference.
Addressing the assembly, Cuba's Rodriguez cited a "memorandum of understanding" signed March 27 by Haiti and Cuba, supported by Venezuela and Brazil. Cuba will "guarantee wide health coverage for the population," specifically "75% of the poorest population of the country at a minimum expense."
He spoke of 101 primary health care centers, 30 community referral hospitals, 30 rehabilitation facilities, and a "Haitian National Specialties Hospital," directed by 80 Cuban specialists. They would train Haitian doctors as their replacements.
Rodriguez promised primary care for 2.8 million of Haiti's 9.3 million people, including emergency operations and every year 168,000 newborn deliveries and three million vaccinations. Referral hospitals will care for 2.2 million people annually, performing 54,000 operations. Annual costs will be $170 million "calculated at 50% of international prices."
Since the earthquake, according to Rodriguez, 23 primary care health centers, 15 referral hospitals, and 21 rehabilitation facilities are "up and running." Over 260,000 patients have been cared for, 7,000 operations performed, and 1,400 babies delivered.
In a recent article, Emily and John Kirk detailed Cuba's collaboration with Haiti on health services.
From 1998 to 2007, 6,094 Cuban medical personnel worked in 127 of 137 Haitian municipalities offering free health care for 75 percent of the population. They cited 14.6 million patient visits, 86,633 deliveries, and 207,000 surgical operations. By 2007, under age-five mortality (deaths per 1000 children) had fallen from 135 to 59.4. Life expectancy had extended from 54 to 61 years. Cuba has trained 550 Haitian doctors, and is currently training 567 more.
When the earthquake occurred, 344 Cuban doctors were already working in Haiti. Some 350 members of Cuba's Emergency Response Medical Brigade arrived immediately, joined by 546 multi-national graduates of Cuba's Latin American School of Medicine and by 184 Haitian students there. Supported by Brazil and ALBA, the Cubans "are offering to rebuild the entire health care system," say the Kirks. It will be "run by Cubans and Cuban-trained medical staff."
Venezuelan funding for Haiti derives from proceeds realized from goods and services Haiti provides in return for discounted Petrocaribe oil from Venezuela. ALBA's representative at the UN conference, Venezuelan diplomat Francisco Arias Cardenas, called for direct aid to Haiti rather than loans. He also called for canceling Haiti's $1.3 billion foreign debt. Venezuela earlier released Haiti from repaying $295 million in debt and sent food, fuel, tents, water purification systems and heavy equipment to Haiti.
Donor nation pledges may include monies already allocated, reported the New York Times. Significant funding is headed toward private foreign contractors presently jostling for projects. "The last time the region was hit by a natural disaster of this scale, Hurricane Mitch of 1998, only less than a third of the nine billion dollars promised materialized," reported an Oxfam spokesperson.
Photo: A Haitian girl rests after receiving treatment at an ad hoc medical clinic. http://www.flickr.com/photos/unitednationsdevelopmentprogramme/ / CC BY 2.0