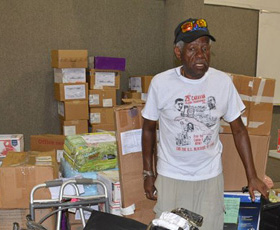 DALLAS – Lisa Valantes is on her 25th Caravan to Cuba with Pastors for Peace. Pastors for Peace is a special ministry of the Interreligious Foundation for Community Organization, and was created in 1988 to pioneer the delivery of humanitarian aid to Latin America and the Caribbean.
The US/Cuba Friendshipment Caravan each year has the caravanistas originate from different parts of the U.S., then make their way through Texas to the Mexican border on their way to Cuba. Valantes started this trip in Pittsburgh!
At every stop, they gather volunteers and material supplies to break the blockade of Cuba. Their donated cars, buses and trucks stay with the Cuban people.
Valantes told the Dallas supporters, "Don't just think about Cuba, think about what Cuba has done for the world!" Many of the audience members at the Pan African Connection in Dallas were especially appreciative of Cuba's total conquest of internal racism and the military help they gave in resisting the old apartheid South African regime.
The caravanistas have 100 U.S. citizens and Canadians, Europeans and Mexicans taking part this year. They traveled 13 routes through the U.S.
Participants explained why they are going: "To deliver humanitarian aid to our brothers and sisters in Cuba as a direct challenge to the U.S. government's cruel and immoral economic blockade of Cuba. And to assert our right to travel to Cuba and see it for ourselves despite being threatened with fines by the U.S. government."
More information is available at their website and on Facebook.
Photo: Volunteers gather material supplies for Cuba. Facebook