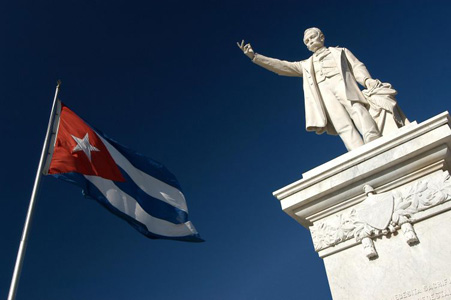 The U.S.-allied Colombian government and leftist guerrillas will begin negotiations soon to end 50 years of civil war. Preparatory talks took place in Havana. Negotiations will return there after starting up in Oslo, Norway. The fact that Cuba facilitated the process is consistent with the island's important new role in Latin American affairs, notably in furthering regional integration.
In April 1948, Cuba and other then-docile Latin American nations were represented at a conference in Bogota, Colombia presided over by U.S. Secretary of State George C. Marshall. The United States, preparing Latin America to join the Cold War on its side, was converting the Pan American Union into the Organization of American States (OAS). After the Cuban revolution in 1959, the OAS expelled revolutionary Cuba in 1962.
The OAS readmitted Cuba in 2009, but the United States insisted on conditions, and Cuba stayed away. The April 2012 OAS Summit of the Americas in Cartagena, Colombia, served to validate Latin American respect for Cuba. Because Cuba was not there, two presidents stayed away and several others said: No more OAS summits without Cuba.
The turnaround follows 50 years of Cuban resistance to multi-faceted U.S. assault, and the country's success in pursuing revolutionary goals of social justice and international solidarity. Latin America, a region that, according to author Eduardo Galeano, "has specialized in losing ever since those remote times when Renaissance Europeans ventured across the ocean" now had a model to emulate.
Venezuela's Bolivarian Revolution led by President Hugo Chavez helped build new confidence in the region, palpable at a 2005 continent-wide summit meeting in Argentina that rejected the U.S.-engineered, corporation-friendly Free Trade Area of the Americas. Confidence is evident too in new multinational alliances.
Joined now by 12 nations, the Union of South American Nations (UNASUR) was formed in 2008 to undertake joint defense, economic development, and infrastructure projects.
MERCOSUR is a six-nation, now expanding South American customs union and common market.
The Community of Latin American and Caribbean Nations (CELAC) evolved from earlier integrationist formations to encompass every American nation except Canada and the United States. At the inaugural meeting in December 2011, Cuban President Raul Castro proclaimed, "For the first time in history we'll have an organization of Our America … It [may] be the greatest happening in 200 years of Latin American and Caribbean semi-independence."
CELAC is undertaking financial and banking innovations, telecommunications projects, and new approaches to environmental sustainability, migration, hunger, poverty and illiteracy.
In 2004, Cuba and Venezuela initiated the now nine-nation Bolivarian Alliance of the Peoples of Our America, known as ALBA. That alliance organizes cooperative ventures ranging from health care, education, communications and banking to regional commercial and economic initiatives, all based on solidarity exchanges.
Integrationist stirrings began almost two centuries ago when Venezuelan Simon Bolivar used his army to try to unify newly independent Latin American nations – and failed. He identified a shared adversary: "The United States appear to be destined by Providence to plague America with misery in the name of liberty."
Cuba's identification with the integration movement stems from the revolutionary organizing, and especially the ideas, of independence hero Jose Marti.
"Trenches of ideas are worth more than trenches of stone," Marti wrote in "Our America," his famous essay published in 1892. European prescriptions and attitudes, he taught, don't apply to the indigenous, African-descended, and country-dwelling masses of Our America, he said. In fact, "In America the natural man has triumphed over the imported book … over an artificial intelligentsia." So, "Make wine from plantains; it may be sour, but it is our wine!"
Marti warned of "Our America's greatest danger:" She "will be approached by an enterprising and forceful nation that will demand intimate relations with her, though it does not know her and disdains her."
Photo: Statue of Marti in Cienfuegos, Cuba. Wikimedia Commons.