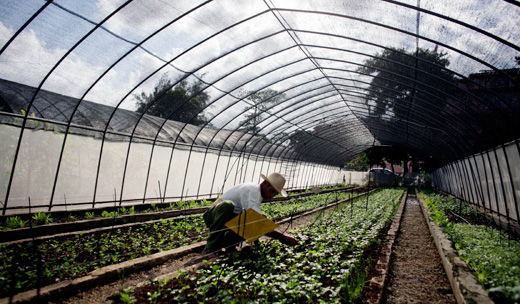 On July 23 the Cuban National Assembly approved a plan "of an experimental nature" to develop 222 urban cooperatives throughout the island. In April economic reform head Mariano Murillo had secured endorsement by the Council of Ministers, of which he is vice president. Cooperatives will be introduced into food service ventures, agricultural markets, "technical and personal services," fisheries, and water management services.
Murillo promised, "The regulatory role of the state and government will be preserved." He observed that, "For cooperativism to be effective it must be accompanied by a body of laws," as well as loans and favorable tax policies. Planning for urban cooperatives began in mid 2011. Multidisciplinary teams based in universities and research institutions currently are designing the new cooperatives.
The Cuban government's decision to expand cooperatives becomes another in a series of economic reforms that government spokespersons say will preserve Cuban socialism. Hundreds of thousands of state-employed workers have been released to seek private-sector work, private entrepreneurial activities are now allowable, state-owned land has been transferred to independent farmers and cooperatives under long term usage arrangements, and administration of the economy is being decentralized.
Communist Party Political Bureau member Esteban Lazo recently highlighted the scale of anticipated changes: "Today almost 95 percent of the country's GDP is produced by the state. Within four to five years, 40-45 percent will be produced by varied non-state forms of production."
Problems triggering these changes include: diminished worker productivity, over-dependence on expensive foreign imports, stagnant export income, lagging family and worker earnings, and even some corruption in the administration of state enterprises. The expectation is that workers enrolled in cooperatives will share decision- making, obligations, and profits. They will go on to build workplace democracy and commitment to cooperatives' production and service goals.
The "Draft Economic and Social Policy Guidelines" from the Sixth Cuban Communist Party Congress in April 2011 called for cooperatives. The document begins by noting that cooperatives are one of the "new forms of management and guidance of the national economy" being incorporated "within the socialist planning system." It specifies that a cooperative is a "socialist form of collective property." With "legal personhood and [their] own patrimony," workers who contribute goods or labor will join cooperatives and "assume all the cooperative expenses along with income." Cooperatives "will produce and provide services for the good of society."
Production and service cooperatives – there are no consumer cooperatives – already exist in Cuba, but only in the agricultural sector. Credit and Services Cooperatives began providing farmers with credit and technical assistance in 1960. Sugar harvest cooperatives followed a year later. From 1977 on, individual farmers voluntarily pooled resources to form Agricultural Production Cooperatives. The Basic Units of Cooperative Production (UBPC) came about in 1993 in response to economic decline following the collapse of socialism in the Soviet Union and other economic partners. Those cooperatives gained rights to long-term use of land given up by defunct state farms.
Agricultural cooperatives operate within a framework of laws and administrative regulations, yet to be formulated for urban cooperatives. Avelino Fernandez Peiso, contributor to a 2011 book "Cooperatives and Socialism: A Cuban Perspective," edited by Havana University Professor Camila Piñeiro Harnecker, points out some flaws in legal underpinnings as lessons for planners of the new cooperatives. Piñeiro Harnecker's book, available only in Spanish, surveys Cuba's agricultural cooperative experience. Contributing authors also review past and present examples of cooperatives throughout the world.
In her preface, Piñeiro Harnecker reviews socialist objections to cooperatives, mainly suspicion that autonomy enjoyed by cooperatives is a capitalist holdover. Contributor Humberto Miranda focuses on the view of so-called scientific socialists that cooperativism has utopian roots undermining anti-capitalist struggle. He notes nevertheless that Marx edited a resolution presented at the 1866 International Workingman's Congress in Geneva identifying "the cooperative movement as one of the transformative forces of present society [showing] that the present system can be supplanted by the republican system of associated free and equal producers."
Lenin, defending the Soviet Union's New Economic Policy in 1923 exclaimed how "infinitely important it is now to organize the population of Russia in cooperative societies…on a sufficiently large-scale."
Piñeiro Harnecker points out that cooperative members identify common interests, make collective decisions, and have in mind usefulness of their work to the larger society. She explains that in effect they are serving "an apprenticeship in administration outside the control of capital." On that score, cooperatives "can be valuable weapons in the struggle to build socialism."
Photo: At a hydroponics farm which uses specialized irrigation methods to grow vegetables in smaller, non-rural areas, in Havana, Cuba, Nov. 21, 2011. Javier Galeano/AP