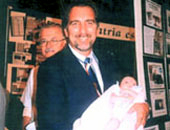 Political prisoner René González, who last saw his almost-9-year-old daughter Ivette when she was four months old, received her on Dec. 30 in a prison visiting room in Marianna, Fla. For six years, the U.S. government has refused to allow Olga Salanueva, Ivette's mother, to visit Gonzalez in jail.
Prison authorities allowed Ivette to visit Rene only after he requested that her 23-year-old sister Irma, rather than Olga, be allowed to accompany Ivette. Born in the United States, the two daughters do not require a visa. Olga has reportedly been removed from González's list of potential visitors.
González is serving 15 years for failing to register as "an agent of a foreign nation." Gonzalez is one of the "Cuban Five," a group of unfairly convicted five men who were watching private Miami-based paramilitary groups to help ward off terrorist attacks against Cuba.
Gerardo Hernández, Fernando González, Ramon Labañino and Antonio Guerrero are the others in U.S. jails. They've been in jail for eight years. Three of them are serving four life sentences. Lawyers are continuing with appeals.
On Jan. 17, Amnesty International renewed its call to grant visas to wives Salenueva and Adriana Perez, who for eight years has been kept away from husband Gerardo Hernández.
Geoff Bottoms, who heads up UK Cuban Five solidarity efforts, said a campaign to persuade European Parliament members to sign a declaration in support of family visits is underway. Nearly 100 have already signed.
Ramon Labañino, in a letter written in December from his Beaumont, Texas, prison cell, points out the glaring hypocrisy of the Bush administration and its "war on terror." The U.S. government continues protecting "in a most shameful and infamous manner, the hemisphere's worst terrorists — Orlando Bosch and Luis Posada Carriles. It continues helping the terrorist, extremist right wing of Miami" and tries to force the Cuban people to their knees with the criminal economic blockade, he said.
"These are the reasons for which we came to the United States to defend our people and the people of the United States."
On April 7, national actions in support of the Cuban Five and in solidarity with Cuba, Venezuela and Bolivia will take place. April 7 is also the 30th anniversary of imprisonment by the U.S. government of leaders of the Puerto Rican independence movement.