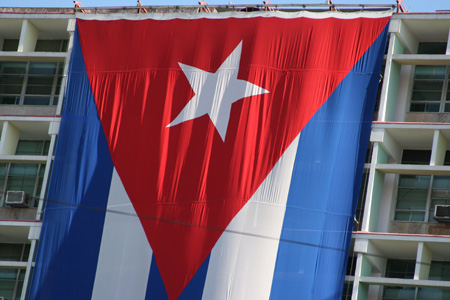 MIAMI — In a city known for its hostility toward Cuba's socialist government, Cuban Americans met March 15 to talk about normalizing U.S. relations with the island. It was a noteworthy development.
David Adams of Reuters reported that the meeting was led by Cuban Americans for Engagement, which was founded to counteract the many Cuban exile groups that still support the U.S. embargo against Cuba. The one-day meeting included speakers from Cuba and had about 125 attendees. It was not protested by anti-Castro groups like many such meetings have been in the past.
One of the attendees, Hugo Cancio, is quoted as saying, "This is a historic event that unites different organizations that are willing to sit down and discuss ways to stimulate the normalization of relations." Cancio, who is the publisher of OnCuba, a Miami-based magazine with an office in Cuba, continued, "We want to tell the U.S. and the Cuban governments to find a way to better the lives of the Cuban people, and to let us participate in the economic transformation of Cuba."
This meeting in Miami comes on the heels of a historic visit to Cuba from one of the island's most critical exiles. Alfonso Fanjul, who has been one of the most "influential and steadfast supporters of Florida's anti-revolutionary community," announced that he was looking into future investments in Cuba "under the right circumstances" and that he had been to Cuba twice in the recent past, according to a report by Keith Bolender, guest scholar at the Council on Hemispheric Affairs. Fanjul also spoke of ending the differences between the two nations in order to "reunite the Cuban family."
According to Bolender, Fanjul and his family fled Cuba when he was a young man, leaving behind the family's sugar business and the family mansion, which is now an art museum. Upon arriving in Miami, the Fanjul family quickly "re-established their sugar empire and now are among the wealthiest families in the state. The holdings of the parent company Fanjul Corp. include Domino Sugar, Florida Crystals, La Romana International Airport, and the luxury private resort known as Casa de Campo." Bolender notes that on Fanjul's recent visit to Cuba, "he toured Havana, visited his old mansion and was able to tour state-run farms and sugar mills after meeting with Cuban agricultural officials and the country's foreign minister."
Fanjul has been widely known as a long-time opponent of Castro and backed "Washington's right-wing initiatives against Cuba through heavy donations to the Cuban-American members of Congress," Bolender says. Fanjul has "been the face of America's policy of regime change" and is "connected to many high ranking politicians."
When Fanjul made the announcement about his trips to Cuba and meeting with Cuban government officials in 2012 and 2013, many hard-right Cuban Americans were shocked, including Florida Republican Congresswoman Ileana Ros-Lehtinen. Ros-Lehtinen attacked Fanjul's new position, saying it was a "pathetic idea of investing in the Castro regime while Cubans suffer." South Florida Republican Rep. Mario Diaz-Balart is also quoted as saying, "I am outraged by reports that a fellow Cuban-American, who has witnessed the atrocities inflicted by the Castro regime, has apparently chosen short-term profit over standing with the Cuban people."
On the other hand, Florida Democratic Rep. Joe Garcia, the son of Cuban exiles, said that Fanjul is realizing that there is considerable movement within the Cuban-American community to normalize relations with Havana.
With this shift in thinking within the Cuban-American community and Alfonso Fanjul's public stance toward opening up relations with the Cuban state, as Bolender put it, perhaps the U.S. policy toward Cuba will become more pragmatic and replace "long outmoded-ideological intransigence."
Photo: Cuban flag. Giacomo Bartalesi CC