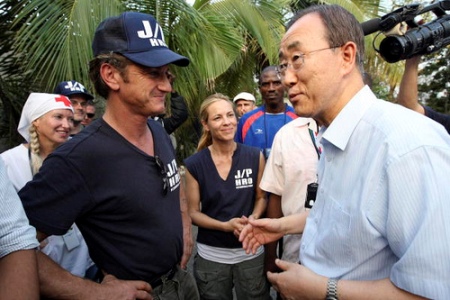 PORT-AU-PRINCE, Hatit (Prensa Latina) — The world of golf is only interested in Tiger Woods, but almost no one knows that more than 45,000 people are currently living in one of the fields of that sport in the devastated capital of Haiti since January 12 earthquake.
However, the Martha Machado Cuban artistic brigade reached that place and revolutionized the apparent peace that prevailed in the golf field in the blink of an eye.
Hundreds of children left their houses; the women stopped their housework and went after the Cuban artists until they found a spot to show their art.
Some minutes before, the head of the brigade, plastic artist Alexis Leyva (Kcho), stopped by the camp, U.S. actor Sean Penn came by and added him to his delegation.
The Oscar 2009 winning actor for "Milk" is participating in a project to aid Haitians and camps near them.
In statements to the press, this popular actor acknowledged the work of Cuban doctors in Haiti. "Of course that I am aware of what they do here. Their job is very important and selfless and it is worthy to acknowledge it."
The 49-year-old actor recognized that Cuba and the United States should work together at a government and people level and admitted that "Cuba started out since it allowed planes to fly over the Island to go to Haiti."
Meanwhile, thousands of Haitians have barely time to worry about art since their current priorities are having a comfortable shelter that protects them from the rain or getting the next-day meal for their families.
Photo: Secretary-General Ban Ki-moon, right, meets with actor Sean Penn, co-founder of the Jenkins-Penn Haitian Relief Organization, and actress Maria Bello, center, at the Petionville Club Internally Displaced Persons Camp in Port-au-Prince. http://www.flickr.com/photos/un_photo/ / CC BY-NC-ND 2.0