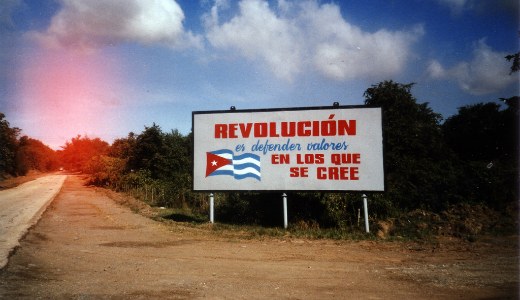 The Cuban Communist Party's sixth congress, meeting April 16-19, coincided with the 50-year anniversary of victory over U.S. forces at the Bay of Pigs and with Fidel Castro proclaiming Cuba's revolution as socialist. It was an occasion for remembering and rededication.
A million and half people began gathering in the streets of Havana at 5 a.m., April 16, in order to, three hours later, file past a reviewing stand in front of Cuba's monument to national hero Jose Marti. Military formations went first, followed by Cuban young people.
Maidel Gómez Lago, president of the University Students Association, spoke to the multitude, saying, "A young women like myself … born under the skies of a just and independent Cuba can tell about and value our history, can read and write about these deeds because we spread schools around, like the seeds those hundreds of thousands of young people, primers in hand, planted that same year 1961, when they taught 700,000 Cubans to read." She added, "This is and will be a revolution of the humble, by the humble, and for the humble, just as Fidel said 50 years ago today."
There were so many people actually participating in the lead-up to the congress, and at full capacity, as to suggest a uniquely Cuban way of doing democracy. And for a congress to have closed leaving a full agenda of follow-up tasks presupposes a confident people expecting that work under way would, in time, be finished.
"In our country, ideas enter into battles the way events do," said Fidel Castro at the party's first congress.
From the beginning, says literacy campaign expert Felipe de J. Perez Cruz, "Education would have a protagonist role." Before 1959, half of all school aged children attended no school; 37 percent of those in school completed only the third grade. Rural illiteracy was 41.7 percent.
Preparing for the party congress 53 years later, the government distributed a document called "Guidelines for the Economic and Social Policy of the Party and the Revolution." For nearly three months, millions of Cubans discussed the document and suggested changes, prompting the congress to approve a new set of guidelines. Only 94 of the original 291 items remained intact, 16 were folded into other guidelines, 181 took on new content, and 36 were new. The revised "Guidelines" document goes next to the National Assembly for legislative action.
Five commissions held forums at the congress, allowing delegates to critique the guidelines. Ample media coverage served to return the discussions back to the people. One commission covered industry, energy, tourism policies, construction, and housing; another, "agro-industry, transport and commerce;" another, jobs, salaries and social security and the economy.
The congress named new Central Committee members to replace 59 retiring. Not only were they selected so as to increase representation of women, young people and African descended Cubans, but they were chosen also because they were prepared. Closing the congress, First Secretary Raúl Castro indicated they were "selected from the immense pool of university graduates and qualified specialists, which the Revolution lost no time in educating." They have "risen from the most humble homes, with active participation in student organizations, UJC [youth organization], and the party," he said. They've worked at the grassroots level, "while continuing to work in the professions which they studied."
Cuban Communists learned about their "battle of ideas" from independence leader Jose Marti who, over a century ago, founded the Cuban Revolutionary Party, the Communist Party's precursor. Basic to Marti's "love of people and human dignity … of independence and anti-imperialism," explained Perez Cruz, was his idea that "to be cultured is the only way to be free." The Cuban Revolution "rescued" that sentiment, he said.
Having confronted economic collapse and international isolation after the Soviet Union fell, dealing now with a world economic crisis, an outmoded style of governance and unrelenting U.S. blockade, the Cuban Communist Party is the protagonist of change. Some of Cuba's foreign supporters worry about a drift into capitalism. Yet Raúl Castro testified as to his "principal mission and purpose for being: to defend, preserve and continue perfecting socialism, and to never allow the return of the capitalist system." Castro plans not to be alone in his resolve. An engaged, historically aware people realize, he said, "that their strength lies in their iron-clad unity."
A national party conference meets on January 28, 2012, the 159th anniversary of Jose Marti's birth, to continue the work of this congress. Its job will be periodically to reevaluate party functioning and to implement changes in structures and policies.
Image: James Bridle // CC BY-NC-ND 2.0