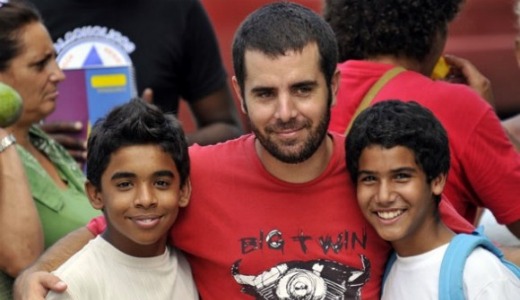 Last year, Michael Moore and the people of Traverse City created a Cuba Film Fund to help revive a stalled project by young Cuban director, Ian Padron. Within two weeks the local people raised enough money to allow Padron to finish his first feature film. He returned this year with not only the first Cuban-Traverse City production, but also one of the highlights of the festival. Habanastation was a surprise hit and won the Founder's Best of the Fest Award.
It's a heartwarming tale about Mayito, a young boy whose wealthy jazz pianist father (is that an oxymoron?) showers him with the latest PlayStation games. Accustomed to being driven to school with a TV in the car, he is the epitome of the successful student who does everything proper and usually receives whatever he wants. When he gets lost during the May Day Celebration in Revolution Square, he finds himself in a poorer neighborhood outside Havana, where a fellow schoolmate, Carlos, lives. At first uncomfortable in the strange settings, he soon discovers the simple joys that Carlos and his friends experience without the latest electronic games and TV shows. Carlos lives with his grandmother ever since his mother died, and his father is serving a long term in prison for unfortunate reasons. Playing soccer in the rain, flying a special kite made for Carlos by his father and meeting interesting people in the neighborhood bonds Mayito with his formerly competitive schoolmate as he gains valuable new friendships. He meets his first "girlfriend" on this same fateful day, and eventually gives her his "first kiss" before being located by his panicked parents. It's a rare view of everyday Cuban life and locations that few Americans ever see, and Padron lovingly dedicates the film "to the children of the world, especially the children of Cuba."
Cuban films are known for addressing serious social issues and challenging government policies. From Death of a Bureaucrat to Guantanamera, directors have poked fun at the failings of their experiment in building a different and more humane social system. Granted, it's a stretch to use Cuba to portray the class struggle, but it seems like Padron is really addressing those Miami Cubans who visit the island and swamp their family members with the riches of the "free world." Although Cuba is a relatively poor country, their own riches abound in extensive social benefits and deep cultural and political awareness among the masses. Habanastation is the rare Cuban film that shows the realities of the highly praised Cuban educational system and the excitement in Revolution Square during May Day, as they serve as a natural backdrop to the unfolding drama.
The film has already gone on to break box-office records in Cuba, with long lines forming outside theaters where people claim to have seen it two or three times already. Somewhat similar to another recent children's film, Viva Cuba, Habanastation could be the first Cuban film since the classic Strawberries and Chocolate to gain worldwide attention and accolades.
Director Ian is the son of the well-loved Cuban director Juan Padron, who made the popular animated classic, Vampires in Havana. Ian Padron infused his film with input from members of La Colmenita Children's Theater Company, which numbers over 12,000 young actors across the island. Seasoned veterans, Luis Alberto Garcia (Guantanamera), who plays Mayito's father, and famed Cuban actress Blanca Rosa Blanco (Lisanka), who accompanied Padron to Traverse City, both stated they all developed a strong empathetic relationship with the two young leads and the director. They became good friends on the set and it shows on the screen, with marvelous performances from the entire cast of mostly young actors.
The film was screened in a high school auditorium that has been refitted with 700 new chairs, and a large screen with state of the art projection and sound, all a result of the success of this festival.
On stage together after the screening, Moore was visibly moved and stunned by the quality of the production about youth in Cuba, completed in such a short amount of time. Referring to the speed at which the fundraising process went forth he mused, "We have potholes here in Traverse City that are still not filled from a year ago, but we got a film made in Cuba!"
When receiving the Best of the Fest Award, Padron gloated, "Last year they gave us the key to the city and they told us we could come back. And here we are again. This is our first festival with the movie, my first feature film, thanks to the people of Traverse City." And in reference to the dynamic role of Michael Moore in promoting cultural ties with Cuban filmmakers, he stated, "There's an award that's called The Oscar. We will call this 'The Michael.'"
Films shown at the 2011 Traverse City Film Festival are listed and discussed at the festival's website. Photo: From left to right, Carlos, director Ian Padron, Mayito.