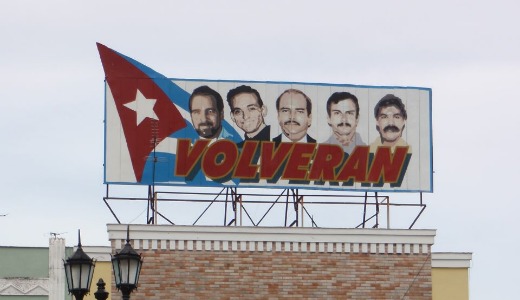 U.S. authorities are blocking a last-ditch attempt by Gerardo Hernandez, one of five Cuban prisoners held in U.S. federal prisons after a much criticized Miami trial, to secure his legal rights. Hernandez's many supporters are asking the public to demand he be given his day in court.
Respected appeals court judges have called the trial in which Hernandez and four other men were convicted a "perfect storm" of bias. Persecution of the "Cuban Five" continues. They are victimized presumably as proxies for an unvanquished revolution. Now U.S. authorities are blocking a last ditch attempt by Hernandez to secure his legal rights.
Hernandez was convicted of conspiracy to commit murder when Cuban fighter jets shot down two small aircraft that had invaded Cuban air space on Feb. 24, 1996, killing four Cuban-American men aboard. Hernandez contends he had nothing to do with this. He was also convicted of conspiracy to commit espionage, along with fellow prisoners Ramon Labañino and Antonio Guerrero. Hernandez received two life sentences. Life sentences for Labañino and Guerrero were reduced on appeal to 30 and 22 years respectively, while prisoners Fernando Gonzalez and Rene Gonzalez, convicted on less serious charges, were sentenced to 19 and 15 years respectively.
Hernandez' lawyers filed a Habeas Corpus appeal with the U.S. Supreme Court, a remedy available to defendants or convicted prisoners who demand release from jail or a new trial based on evidence not yet considered. His lawyers were required to have submitted exculpatory material (meaning material which might support the prisoner's plea of innocence) prior to or during the week of Aug. 14. The U.S. government, however, has refused to release key material Hernandez' lawyers have requested. To rub salt into Hernandez' wounds, prison authorities are denying him ready access to his lawyers and to Cuban consular officials. They've restricted or impeded the delivery of letters sent from all over the world.
Using the Freedom of Information Act, solidarity groups including the National Committee to Free the Five, Liberation newspaper, and The Partnership for Civil Justice Foundation recently obtained and publically displayed documentation showing that Miami area reporters, as well as radio and television commentators, accepted payments totaling hundreds of thousands of dollars from the U.S. government. Advocates for Hernandez say such pay-offs from the same government that was carrying out the prosecution made a fair trial impossible. Both before and during their trial, local media were flooded with florid allegations from these publicists as to dangers the five men posed to U.S. peace and security. It seems, too, that some of the journalists had engaged in violent anti-Cuban actions and are thus qualified to epitomize, themselves, terrorism unleashed against Cuba.
Hernandez' lawyers have also been unable to pry loose satellite images from the U.S. government showing, they say, that the small planes heading for Cuba from southern Florida in 1996, piloted by Cuban-American extremists, actually entered Cuban air space. The point is that under international law Cuba has a right to defend its airspace by military means, and that Hernandez bears no responsibility in the deaths of the pilots.
The Cuban National Assembly on Aug.1 issued a demand that Washington release material sought by the lawyers, so that justices deciding the Habeas Corpus appeal can examine crucial evidence. Otherwise the cards are stacked against Hernandez.
In his presentation that day, National Assembly President Ricardo Alarcon said, "We must demand that Washington release the concealed information about its conspiracy with the so-called 'journalists' of Miami" and also "reveal the satellite images it has hidden for 15 years."
"We must raise to a higher plane the struggle for the freedom" of the Cuban Five, he declared.
On Aug.11, the Cuban diplomatic mission to the United Nations communicated a press release from the National Assembly, which pointed out that time was running out to have evidence entered into the Habeas Corpus appeal. "U.S. authorities [must] put an end to this unjust and illegal situation," the communiqué said.
In summarizing the dire legal situation facing Gerardo Hernandez at U.S. hands, the International Committee for the Freedom of the Cuban 5 asks that solidarity activists contact the White House and U.S. embassies "demanding an end to the illegal and arbitrary treatment against Gerardo Hernández." Messages can be sent to the White House by email, by phone to 202-456-1111, or through the mail to President Barack Obama, The White House, 1600 Pennsylvania Ave NW, Washington, DC 20500.
And your letters to Gerardo Hernandez expressing friendship, solidarity and support would be very welcome. His address is: Gerardo Hernandez, No. 58739-004, U.S.P. Victorville, P.O. Box 5300, Adelanto, CA 92301.
Photo: Signs in support of the Cuban Five are common in Havana. In English, the sign says, "They will return." Carlos ten Brink // CC 2.0