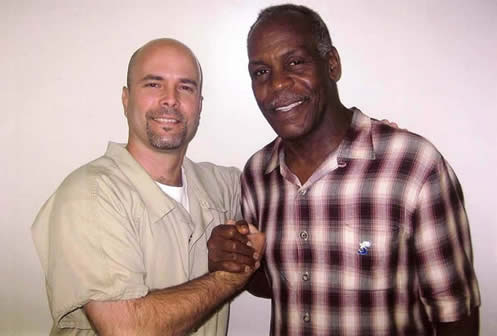 On January 1, Cuba's Granma newspaper published greetings from the Cuban Five political prisoners in U.S. jails: Antonio Guerrero, Fernando González, René González, Gerardo Hernández, and Ramón Labañino. These five men are serving unjust sentences for protecting Cuba from terrorist attacks.
For previous articles on the Cuban Five click here.
Translated excerpts of their greetings appear below.
From the Federal Correctional Institution (FCI) Marianna, Florida, René González writes:
"…Worthy sons and daughters of Cuba: A new year is upon us. From five distant prisons, we join you in your struggles and aspirations. These are times of extraordinary resonance for the future of our country. Today more than ever, we want physically to be among you in constructing it. In a world clamoring for alternatives, the fate of all humanity is tied to our small country……For you, we want every success toward the only possible and necessary alternative of a better socialism that now rests on the will, the conscience, the intelligence, the spirit of solidarity, and the deeds of that invincible collective of all worthy Cubans.
From FCI, Florence, Colorado, Antonio Guerrero Rodríguez sends a poem, which in part says:
"Beloved homeland: Happy New Year!
Inside, I take in your courage,
Your fine touch, like the brushing of a flower,
The true course of your precise compass,
The sure light of your beacon.
I take in your conviction that the empire,
Bent on taking us back to the past,
Could frustrate the dawn an entire people
Raised up out of its brave crucible.
Beloved homeland in renewed struggle:
With immense joy we exclaim:
Revolution, Happy Anniversary!"
A letter written from FCI Jesup, Georgia (where Ramon Labiñino is imprisoned) appears over the names of all five.
Dear Cuban People:
"…This 2010 is over, with many battles won, with others yet to win and with optimism that power for all future victories lies in the unity of all. The economic challenge and the 6th Congress of the Cuban Communist Party are major premises for this coming 2011. We are convinced there will be another important triumph for our own kind of socialism which will be shown with pride to the whole world."
Fernando González Llort writes from FCI Terre Haute,Indiana.
"Dear countrymen and women," he says, in part; "With happiness and joy we receive the new year and the 52nd anniversary of the triumph of our glorious revolution. Throughout the country, the true people's parliament these days is discussing transcendent themes to be analyzed by the Congress of the Cuban Congress Party. 2011 will be a year of strengthening the revolution and socialism. They are guarantees of the liberty and independence of our country."
Photo: Actor Danny Glover visited Gerardo Hernandez, one of the Cuban Five, at the United States Penitentiary in Victorville, Calif. (theCuban5.org)