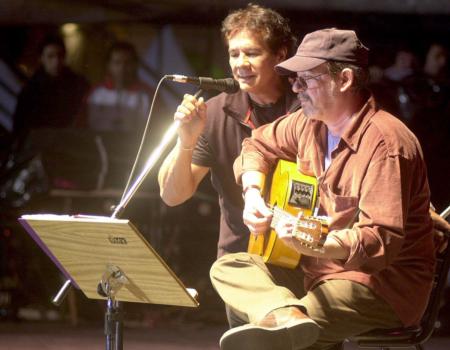 Legendary Cuban folk singer Silvio Rodriguez is scheduled to perform throughout the United States this summer in his first tour here in more than 30 years. Although Rodriguez has not been granted a visa from Washington yet, the Cuban singer-songwriter is expected to perform at Carnegie Hall in New York on June 4, including additional concerts in Los Angeles, Chicago, San Francisco and Puerto Rico.
Granting a visa to Rodriguez, one of Cuba's most famous singers and supporters of the island's socialist revolution, is being widely seen as another step toward easing tensions between the U.S. and Cuba.
The 63-year-old Rodriguez is a founding member of the "Nueva Trova" (New Song) movement, which fuses poetic lyrics with revolutionary politics. For decades Rodriguez has filled auditoriums across Latin America where he is beloved. He has released more than 20 albums in his career.
In May 2009, Rodriguez was scheduled to make a special appearance in New York during a tribute to American folk singer Pete Seeger, at Madison Square Garden. Rodriguez was unable to attend because Washington failed to process his visa request fast enough.
Since the historic presidential election of Barack Obama in 2008, hopes to strengthen ties between Cuba and the U.S. have increased throughout the hemisphere. Though political relations have not significantly improved between both nations, cultural exchanges involving artists and musicians have become more commonplace.
Last month, business and human rights groups urged Congress to work towards easing the decades-old embargo on Cuba by passing a bipartisan bill to lift a ban on travel to the island. They also asked that certain obstacles to legal farm sales between the two countries be removed.
"We believe the proposed legislation represents a necessary step toward ending a U.S. policy that has failed for decades to have any impact on improving human rights in Cuba," said Jose Miguel Vivanco, executive director with the Americas division of Human Rights Watch, during a congressional hearing.
Representative John Tanner, D-Tenn., chairman of a trade subcommittee in the House of Representatives Ways and Means, called the hearing to examine a bill crafted by House Agriculture Committee Chairman Colin Peterson, D-Minn., and Jerry Moran, R-Kansas.
The legislation would lift restrictions on U.S. citizens traveling to Cuba and remove certain obstacles to cash agricultural sales already allowed under previous reforms.
"Lifting these travel and trade restrictions is about what is best for the United States," Tanner said in a statement, adding it would create U.S. jobs through additional farm sales and help the Cuban people through increased tourism.
A study by Texas A&M University in March estimated that if the Peterson-Moran bill were approved including lifting the travel ban and easing agricultural export restrictions, the move could lead to $365 million in additional sales of U.S. goods and create 6,000 jobs in the U.S.
Critics say the U.S. embargo is an outdated holdover from the Cold War era that only makes matters worse for developing Cuba, which because of the blockade the Cuban people continue to lack badly-needed medical, technological and industrial resources.
In February, leaders of all 32 nations in Latin America met during a summit in Mexico and once again called on the U.S. to lift the embargo against Cuba.
The Obama administration, unlike the previous one, has taken some steps to improve relations with Havana, such as allowing unlimited family travel and remittances and greater telecommunication links.
However, many activists say, more needs to be done, and Washington must respect Cuba's sovereignty and political independence in the process.
Photo: Victor Heredia and Silvio Rodríguez sing en la Plaza de Mayo in Buenos Aires, Argentina, May 25, 2006. (www.presidencia.gov.ar/wikimedia)