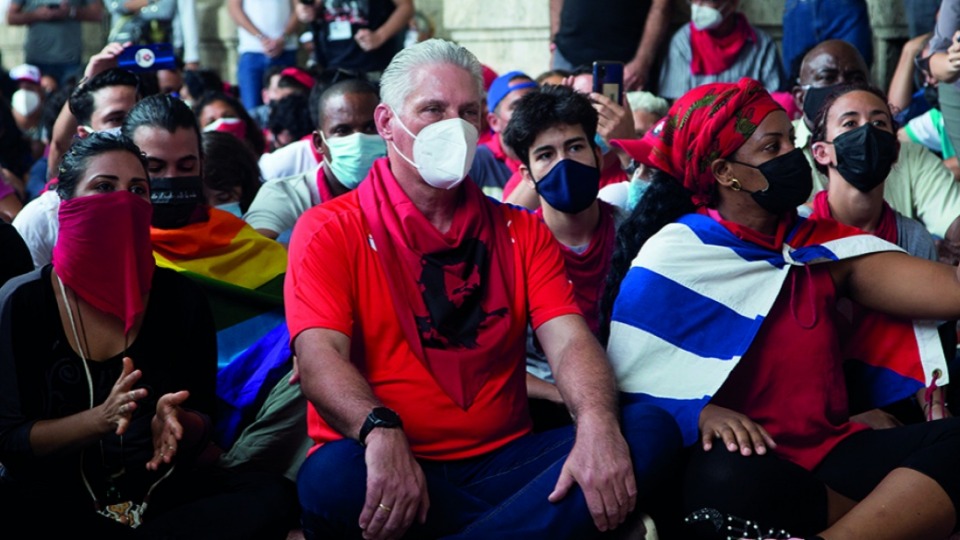 Cuban President Miguel Díaz-Canel donned a red shirt and matching scarf Monday as he visited a sit-in against the U.S. blockade in Havana's Central Park.
The "Red Scarves" movement sprang up among university students in response to U.S. efforts to exploit protests over the summer to ratchet up counter-revolutionary activity in Cuba.
Around 70 students held a sit-in across the whole weekend in protest at the blockade, U.S. funding for destabilization, and social media platforms' manipulation of accounts to censor pro-Cuba voices.
"These actions are part of the strategy of unconventional war against our people," Díaz-Canel told the students. "We deserve to live in peace and without the obstacles imposed by unilateral coercive measures."
Journalism student Pedro told Prensa Latina the Red Scarves were for "a more inclusive, democratic, participatory socialism, in which our people can raise their voices even louder.
"However, we will not reconcile with extremists who are disguised as conciliators and support U.S.-backed destabilization attempts."
He noted that Twitter had suspended the first account to describe the Red Scarves movement.
The U.S.-based social media giant has been accused of manipulation before, including winking at the creation of tens of thousands of fake accounts to support the coup against Bolivian socialist president Evo Morales in 2019, and censoring pro-government voices in Venezuela the same year when massive pro- and anti-revolution demonstrations took place.
The U.S. called for worldwide protests against the Cuban government for Nov. 15.
RELATED STORIES:

> Source of Cuba's suffering is in Washington, not Havana

> Engineered rebellion: Eyewitness report on the anti-government protests in Cuba

> Cuban intelligence chief says 'U.S. government preparing final blow' to revolution