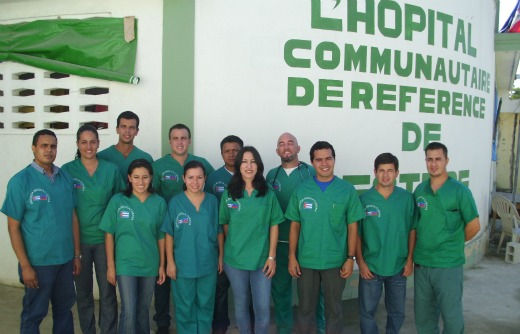 HAVANA – As an Indiana working-class native, I was deeply moved after Haiti's devastating earthquake of 2010. I was in Cuba at that time in my forth year of medical school at the Latin American School of Medicine (ELAM).
The school sought out a group of Americans from the 2010 graduating class to incorporate into the "Brigada Medica Cubana." This is a famous brigade that rushes to the aide of neighboring and developing countries after a disaster.
One of these new doctors and 2010 ELAM graduate, Dr. Gregory Wilkinson, still works as a general practitioner in Haiti, servicing the dilapidated communities from tents. He is completing a family practice residency program.
Wilkinson comes from Oakland, Calif., studied at Merritt Community College, and then sociology at Iona College in New Rochelle, N.Y. With Jamaican roots, Wilkinson said he is proud and eager to complete the medical school's scholarship requirement of working in an underserved community, as he is doing in Haiti.
Dr. Wilkinson shared his story with me about how he adapted to his new home. (Slideshow follows the interview.)
Where have you been living?
I have been in the village Lester, center of the largest department in Haiti named Artibonite, and includes the river near the cholera outbreaks.
What are your primary duties?
First order of business was the cholera treatment. The higher incidence, the harder the work. We operate in six-day cycles. For example, one can start off the week with consultations, where you classify patients into two categories- cholera and no cholera. After consultations one rotates next to CTC (the Cholera Treatment Center). Next one rotates into pediatrics for one day and adults the consecutive day. Lastly, one does a 16-hour on-call shift followed by a 24-hour free day before you restart the cycle all over again.
Due to the great separation of families, are you able to treat children if a parent is not present.
Yes, but it is rare a child will arrive unsupervised. Some adult will accompany them, be it a friend or distant relative. Most people are brought in by somebody else, especially the critical cases. We have grown accustomed to reacting quickly when we see someone brought into us in the wheelbarrow, which is a Haitian taxi.
After the earthquake, which was named the "Worst Disaster of the Planet," how was your living situation when you first arrived to Haiti? living situation when you first arrived to Haiti?
When I arrived to Haiti it was six months after the earthquake, so little structure restoration had taken place. The facility that I work in now started off as rows of tents and we all lived in 10'x 5′ tents and slept on cots. Electricity was slim to none. We were conducting intravenous punctures with our flashlights. Once I used my cell phone to assist a surgeon operating without light.
Now thanks to the collaborative effects of the Cuban Medical Brigade, UNICEF, and the United Nations we have a hospital with a generator in it. During the initial phases of construction, we received bigger and sturdier tents for the Cholera Treatment Center and I dwelled in a hallway of the hospital.
Personally, I prefer to rest on the roof of the hospital that is why the community named me "Chat blanc de l'hopitale" meaning white cat on top of the hospital. Conditions change and improve daily.
How are critical cases handled?
First of all we have no division among ourselves. A doctor is a nurse and a nurse can be a doctor. We all work together side by side. We are trained to identify dehydration and it is the first order of business. When I am alongside a specialist putting in an IV, there is not competition. Our focus is to save a life.
When someone shows up in the wheelbarrow with sunken in eyes a weak pulse and no perceptual blood pressure, everybody moves fast to hydrate the patient. A patient can come in thin, lethargic, and in a state of shock, however within the hour they are plump, stable and revived. We are well known for how we can "raise the dead" with dopamine.
Are you given opportunities to engage in the community?
Once a week we do "clínica móvil," terrain work where we go into the mountains to establish clinics with supplies like chorine tablets, hydration salts, basic antibiotics, promote health care and cholera preventive techniques.
Normally we take a vehicle high into the mountains and when the road runs out we get out and walk. We, with all our supplies, march into high altitudes where some people have never seen a doctor before.
What is a common thing that you treat?
We treat minor infections and superficial lesions. One of the most important things is to educate the people on how to purify their water, minimizing the spread of the [Cholera] epidemic and future contamination.
While in Haiti I heard something exciting happened to you.
Well, Fidel Castro, the ex-president of Cuba, called me on Christmas. He called to speak with myself and my ELAM colleague and fellow American, Dr. Narciscio Ortiz. I was so nervous. I responded to him in Haitian Creòle. He called us because he had been informed that [the ELAM] center maintained the lowest mortality rate during the climax of the cholera epidemic, despite the plight of having the highest influx of cholera cases. It is not difficult work, but it is at a great magnitude. [At times, the staff saw 250-plus people during one shift.] Personally, I find it exciting every time I save a life.
In retrospect, can you name one thing that could have helped you do your job better?
Hard to say because everything is a learning process. People are always where they are when they need to be. When you stop learning is when you punch the clock.
I guess I could say I wish I had learned Creòle before I arrived, but honestly the one thing that helped me most was being genuine. Haitians are smart enough to see through the BS. I have learned the valuable lesson that human contact is important, and it is the difference between doctors that know of a disease from a doctor that can cure a disease. It is all about making connections.
After my interview with Dr. Wilkinson, I was even more inspired to organize a similar brigade after my 2012 graduation. What other country in the Western Hemisphere is most known for its poverty apart from Haiti? The medical assistance that was mandated to Haiti was inadequate despite the help from neighboring countries. To date my Haitian brothers and sisters are still confronted by poverty as a way of daily life.
Photo: One of the Cuban medical brigades in Haiti. (Courtesy of Gregory Wilkinson and Chasiti Falls)