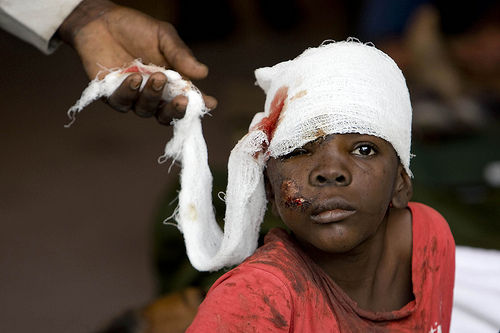 Giving child survivors a boost, especially a psychological one, represents a challenge in post-earthquake Haiti. That was true too following the 2005 tsunami in Southeast Asia. A month after that catastrophe, the United Nations children's agency UNICEF tried to identify what worked to protect children's mental health.
Specialists working with surviving children in Sri Lanka, for example, found that "education and play are proving to be among the best ways to help children heal, providing a semblance of normality and an important outlet for self-expression."
The UNICEF station there had "emptied its stores of children's recreation kits" to distribute them among hundreds of relief camps. "The emotional needs of children are one of our main concerns," said UNICEF Child Protection Officer Christine Watkins, quoted at the time on the agency's web site.
Watkins explained that play and games help "because they encourage children to unburden themselves." Children are given an opportunity "to help support each other." She praised "home grown community based approaches" as promoting "children's recovery and resilience," adding that "the best kind of healing comes from the people themselves."
In the Haitian town Croix des Bouquets, outside Port au Prince, lots of children need support. Those gathered at what prior to the earthquake had been a playground seemed dejected. A Cuban field hospital was occupying the space.
But community leaders organized a meeting between parents and Cuban health workers to find ways to help the children, "the most vulnerable population sector in catastrophe situations," according to a Prensa Latina report. Cuban doctor Cristóbal Martínez spoke with the parents and children. An earthquake survivor provided translation into Creole (also known as Kreyol).
Martínez sketched out the "program for mitigation of psychosocial damage" that he and his colleagues knew about. Discussion ensued, and soon there was a green light for a "children's festival." That event featured story readings, singing of Haitian children's songs, and picture painting sessions "permitting children to put their nightmares off to one side, at least for a while."
With skillful rendering of traditional rhythms, teachers at the National School of Haitian Art "filled the spectacle with life". They had children and adults singing words of optimism with the promise that "the country would get by this tragedy and overcome misery."
The children were soon smiling and on the verge of dancing. They insisted that reporter Enrique Torres show them the pictures he took of their drawings. Doctor Martínez observed, "Play for children is a primary psychological necessity. If we satisfy their need to play, we are giving them something."
Martínez suggested that "although there had been a terrible disaster, if children go to school, eat, play, and can enjoy themselves, in their consciousness the disaster has already passed … When these children are in school and can play and do a sport, which definitely is a game, the battle is practically won."
The Cuban team carries out its program of play, recreation, and sport at the periphery of the health care site. They promised to introduce it in other parts of the devastated area including Leogane, east of Port au Prince. There, 15 Haitian activists belonging to the Simon Bolivar community have been charged with "improving the mental health of their younger compatriots."