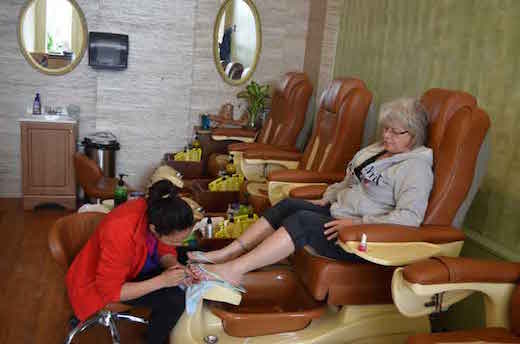 NEW YORK (AP) – Gov. Andrew Cuomo is creating a task force to conduct investigations into nail salons around New York, following a report of widespread exploitation of workers.
The New York Times reported Monday that Cuomo says he will not stand by as workers are deprived of wages.
A two-part investigative series in the Times found nail salon workers were forced to toil long hours amid toxic chemicals performing manicures and pedicures for little wages.
The Times stories also reported many workers suffered serious health problems and there was little, if any, protection for them.
Cuomo says the plans are taking shape after the reports last week.
He says salons will be required to post signs in a half-dozen languages that inform workers of their rights. Responding to the blockbuster expose, the National Asian Pacific American Women's Forum denounced the exploitation, unfair labor practices and health risks faced by nail salon workers, most of whom are "primarily low-income immigrant Asian American women. These conditions include subminimum wage and other unfair labor practices, physical and verbal abuse, ethnic bias, and devastating health impacts–from miscarriages to cancer," the May 8 statement read.
The group's executive director, Miriam Yeung, applauded The New York Times for its work in bringing to light in such dramatic fashion the "deplorable conditions." The group issued a report on the industry in 2011.
"For years, the National Asian Pacific American Women's Forum has called for a federal response," she said, adding that pending New York City legislation does not go far enough.
"Gaps in federal immigration, labor, cosmetics safety, and environmental laws and regulations allow exploitation of low-income immigrant women who risk their health working around the clock for sub-minimum wage."
The NAPAWF is self-described as a multi-issue, progressive, community organizing, and policy advocacy organization for Asian American and Pacific Islander women and girls in the United States.
Teresa Albano contributed to this article.
Photo: Tuongtp/CC