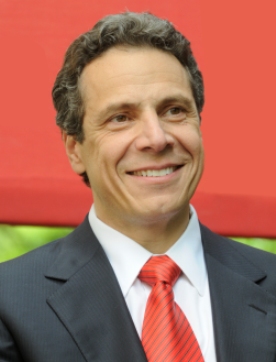 NEW YORK – "We need radical reform, we need a new approach, we need a new perspective," Democrat Andrew Cuomo, this state's new governor, said in his inaugural speech. This and other public statements offer some perspective as to what his budget proposal for the upcoming fiscal year will look like: "austerity, corruption and competition" are on his agenda.
Freezing the wages of state workers is his given. Discussion about the pension cuts is on his agenda, but since the state's constitution must be amended to do this, details are few. Public employee unions are already fighting previously announced state and local cuts and contracting out. They have shown they will not accept attempts to make them scapegoats for a fiscal crisis that Wall Street and the banking industry caused.
Ideologically, public workers' pensions have been the major target of the corporations. This attack has been made easier by the fact that many private industry workers lost, or never had, "defined benefit" pensions. Many workers have never had any pension.
Cuomo also plans to cut Medicaid, the cost of which is growing every year. He announced the formation of a Medicaid Redesign Team charged with finding ways to save money within the Medicaid program.
Advocates for the homeless and poor working families argue that there is a need for more funding, not less. The gap between the rich and everyone else has widened nationally, and New York has the largest gap.
Cuomo also wants property taxes capped, apparently for all real estate. If he gets his way on that, it may bring some initial relief, but many believe that capping property taxes, while not raising taxes on the wealthy or closing tax loopholes on corporations, will bring much hardship to working families in the long run.
In addition to capping property taxes, the governor outlined a working group to begin the process of identifying and eliminating "state mandates" and to provide fiscal incentives for local municipalities to consider consolidation of services, which could provide Long Island schools, in particular, with much needed relief.
The issue of incarceration of young people and reforming the juvenile justice system did, however, bring enthusiastic responses. "An incarceration program is not an employment program," said Cuomo.
Labor and other progressives are bracing for the actual budget proposal, but vow to fight any attempt to balance the budget at the expense of the state's working people.
Labor has never been happy with Cuomo, who, even during his campaign, vowed a battle with unions when elected. However, most progressives voted for Cuomo in order to defeat Carl Paladino, the Republican challenger who exposed himself as a right-wing extremist. Tens of thousands of people voted for Cuomo on the Working Families Party line, in order to both cast a vote against Paladino and, at the same time, deliver a message that Cuomo's anti-labor, anti-working people stances were unwelcome.

Image: Andrew Cuomo, courtesy Governor's office.