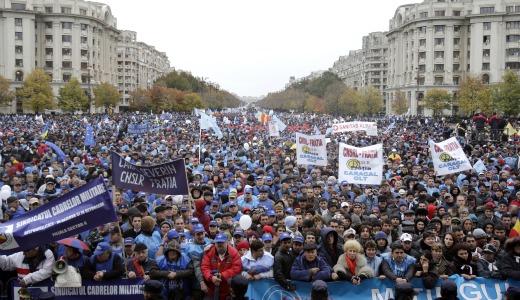 Hundreds of desperate Romanians left destitute by the country's austerity drive lined up for food aid Wednesday in the Black Sea port of Constanta.
Authorities say nearly 75,000 people currently qualify for rations of flour, cornflour, pasta, sugar biscuits and powdered milk.
High inflation figures revealed Nov. 10 suggest that the number is set to grow.
Government statistics showed annual price rises, driven by fuel and food costs, hit 7.9 percent in October.
Delivery of food aid has been hampered by a shortage of public-sector workers to distribute the handouts.
Romania has cut public-sector wages by 25 percent and jobs, pension and benefits have also been slashed.
The government of Prime Minister Emil Boc launched its massive cuts drive on the orders of the International Monetary Fund, the European Union and the World Bank in return for a 20 billion euro (about $27 billion) bailout loan.
And IMF Romania mission head Jeffrey Franks declared last week that "results have been good so far" as he announced that Romania had agreed to a new round of cuts in return for the release of a $4.4 billion loan.
This article is reposted from Morning Star. http://www.morningstaronline.co.uk/index.php/news/content/view/full/97482
Photo: A protest against austerity measures in Bucharest, Romania's capital, Oct. 27. The demonstration by trade unions from all over Romania was the largest anti-government protest of recent times. (AP/Vadim Ghirda)