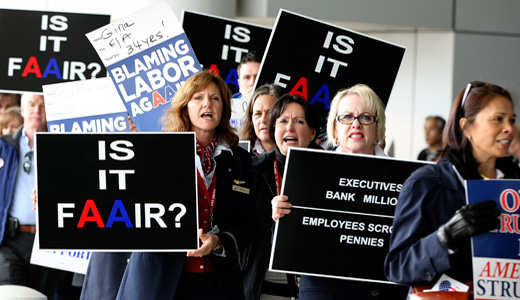 WASHINGTON (PAI) – The Communications Workers have lost the union recognition vote among passenger service agents at American Airlines by the narrow margin of 161 votes out of almost 6,000 cast, and the union is pondering its next move.
CWA announced the loss and the National Mediation Board, which runs labor-management relations at airlines and railroads, provided the figures: 2,891 for CWA, 3,052 for no representation and four void ballots. There were 7,792 eligible voters.
The vote culminated an organizing drive at the Fort Worth-based airline that lasted 15 years and featured numerous management obstacles, union Communications Director Candice Johnson told Press Associates Union News Service.
That included challenging the union all the way up to the U.S. Supreme Court – it lost – and trying to halt the vote through federal court rulings.
CWA Video: American Airlines agents brief Congress (article continues after the video)
However, another key factor was the decline in eligible voters. NMB figures show that as recently as early in 2012, there were 10,607 eligible passenger service agents at American. But by the time of the vote late last year, and after the airline's recent bankruptcy reorganization filing – even though it had $4 billion in the bank-that figure had dropped by almost 3,000.
"There were a lot of changes in status" among the agents, including resignations, layoffs and promotions, an NMB Office of Legal Counsel official told PAI.
"The cuts were a big factor. American went after a lot" of the pro-unionists among the passenger service agents, Johnson said. "And it's been relentless in going after us in so many ways," including the court cases, trying to change airline union voting law after the fact and its anti-union campaign, she added.
"It really is disappointing. The company cut many thousands of positions over the past year," she said. "Some flight service stations were closed completely."
The union has a week to decide whether to appeal the results of the vote, and Johnson said it would consider its options. In its formal statement, the union's organizing director, Sandy Rusher, promised CWA would continue to stand with the agents in their fight for representation.
Both Rusher and Johnson said the potential merger of American with US Airways, which is unionized, could provide another avenue for representation for the passenger service agents.
"Hundreds of agents at American have been active in this fight for a union for more than 15 years, and they won't stop now. There is no doubt this group will get the union voice they want," CWA stated.
"That agents even got to this election is a feat in itself. Agents at American Airlines will continue to stand strong and work for a voice at their airline, and CWA will be with them," said Rusher. "These are amazing leaders who have given their heart, integrity, intelligence, commitment and determination to this effort. We'll continue to work with them."
Photo: Some of nearly 300 flight attendants, mechanics and ground crew workers protest American Airlines' restructuring plan that would layoff 13,000 employees, terminate pensions and shut down its Alliance Fort Worth maintenance facility, Feb. 14, 2012 at Dallas-Fort Worth International Airport in Grapevine, Texas. Khampha Bouaphanh /The Fort Worth Star-Telegram/AP