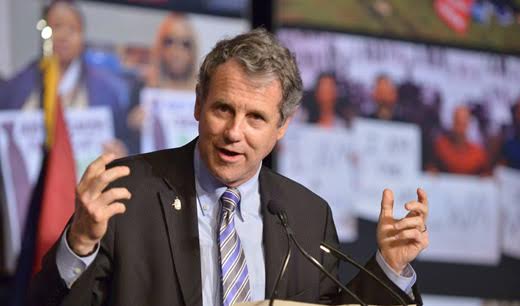 President Obama and the nation's top business lobby will team up to take advantage of favorable political conditions for a massive post-election push to enact a law for the controversial Trans-Pacific Partnership (TPP) "free trade" pact.
That's the prediction of Shane Larson, the Communications Workers' legislative director, who is urging his union's activists – and other unionists – to keep the pressure on lawmakers to vote against the TPP, even after the November 8 balloting.
Larson gave that forecast to CWA's Legislative-Political Conference, meeting in D.C., on June 14-15. Campaigning against the TPP, or, more precisely, against Obama administration legislation to implement the TPP, was one of two top topics of the 600 delegates.
But Larson predicted that Obama and the U.S. Chamber of Commerce, the TPP's top backers, would wait until after the election to bring it up in a "lame-duck" session of Congress.
The TPP would open the U.S. to a flood of goods from the 11 other Pacific Rim nations that signed the pact, including low-wage anti-worker nations. It also lacks enforceable labor rights, workers and their allies point out.
Obama's own International Trade Commission says it would cost 128,000 factory jobs and add $22 billion to the annual U.S. trade deficit. And Sen. Sherrod Brown, D-Ohio, one of the leading foes of the trade pact, reminded delegates the TPP includes a secret trade court, run by pro-business trade lawyers.
"A company in another country" could sue in those courts "over a good, strong labor provision" – federal, state or local – in the U.S., and win, Brown said on June 15. "Our trade deals amount to corporate handouts and worker sellouts."
"We've done a good job of letting folks know what a piece of crap this is," Larson said of the TPP. "We believe this will come up. Obama is obsessed with getting this done – and even more so, the Chamber."
Political conditions will also be right to shove the TPP through, he said. That's because the lame-duck session of the 114th Congress will include many lawmakers, defeated or retiring, who are free to vote for jobs-losing "free trade" pacts, regardless of what constituents want.
And they'll have another, cynical, incentive to vote for the TPP enabling bill, too, Larson said: Constituents will have "less leverage and because they're lobbying for jobs" with special interests that push the TPP, Larson predicted.
Meanwhile, re-elected lawmakers, especially defecting Democrats, will count on constituents' short memories between a late 2016 TPP vote and a November 2018 election.
"Some will say, 'OK, we'll kiss and make up with them'" – workers – "by 2018," Larson said. "Wrong!"
Photo: Senator Sherrod Brown of Ohio weighs in on the TPP, at the CWA 2016 Legislative-Political Conference, Facebook