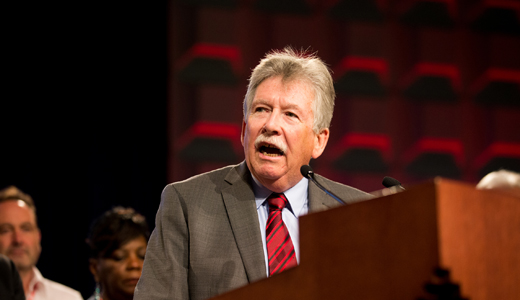 DETROIT (PAI) – Chris Shelton, the longtime activist and leader of Communications Workers District 1 in New York and New Jersey, and Sara Steffens, a rapidly rising organizer from The News Guild, won the top two posts at the CWA convention in Detroit last week.
Shelton started his union career in 1968 as a shop steward for Local 1101 at New York Telephone, where he worked as an outside technician. He became District 1 leader in 2005. Shelton, a Bronx resident, was unopposed in his race for the union presidency after former President Larry Cohen retired after 10 years.
Steffens, who first came to prominence for organizing the San Jose Mercury News for The News Guild – and for being illegally fired for doing so – defeated incumbent Secretary-Treasurer Annie Hill by a weighted vote of 194,461-150,914. The two ran together.
The building of a separate workers' party was one of several goals Shelton set out in his acceptance address, along with fighting discrimination, and campaigning for a financial transactions tax.
Steffen addressed the need to build even more "unity and militancy at the bargaining table" and stressed his commitment to continuing Cohen's pro-democracy campaign against big business and big givers' monetary dominance in politics.
"We can build unity and militancy – whether it's at Verizon or ATT or American Airlines or United Airlines or Texas or Missouri or New Jersey or ABC or NBC or the Canadian Broadcasting Company or The New York Times or Frontier Communications or CenturyLink or General Electric or wherever the hell our members are in a fight," Shelton declared.
"We will unite and fight because we are fighting to defend the living standards not just of our members, but of the entire working class and that is our job and that is our mission."
But it's not necessarily the Democrats' mission, he added, specifically citing President Barack Obama's push for so-called "fast-track" trade promotion authority and the trade pacts it would lead to. Those pacts have no worker rights, no environmental protections and could lead to outsourcing factory jobs, service jobs and even government jobs, he said.
"It's time to quit relying on the Democrats to move this (progressive) agenda forward," Shelton declared. "Yes, we are going to fight in every state and every congressional district to defeat the crazy, wing-nut Republican tea partiers who want to roll back history to a time when African Americans and women and gays and lesbians knew their place, kept their mouths shut, and were forced to hide in the closet. And we have to elect a Democratic president in 2016 if only because the next president is likely to make up to four appointments to the Supreme Court."
To Shelton, this is no progressive pipedream but an ongoing project. Citing his unions' 15 years of work with the Working Families Party, Shelton is confident in his union's ability and labor's ability generally to build their "own political party, that stands unequivocally with us on every issue, whether it is the fight against TPP, or to raise the minimum wage, or to enact paid sick days legislation or to raise taxes on the wealthy or to get corporate money out of the political system. It is an organization we built and that working people and their allies run."
Most importantly to Shelton "is that it has the capacity and the willingness to take on the corporate Democrats who oppose us."
"This is a strategy I think we should pursue wherever possible, and I think the entire labor movement should adopt this strategy also. While we will be pragmatic about what we must do at election time, we also must have a vision-a vision of a politics that serves the working class. And to do that, we need to build our own, independent, anti-corporate, pro-union political organizations," Shelton declared.
Photo: Chris Shelton, CWA website.