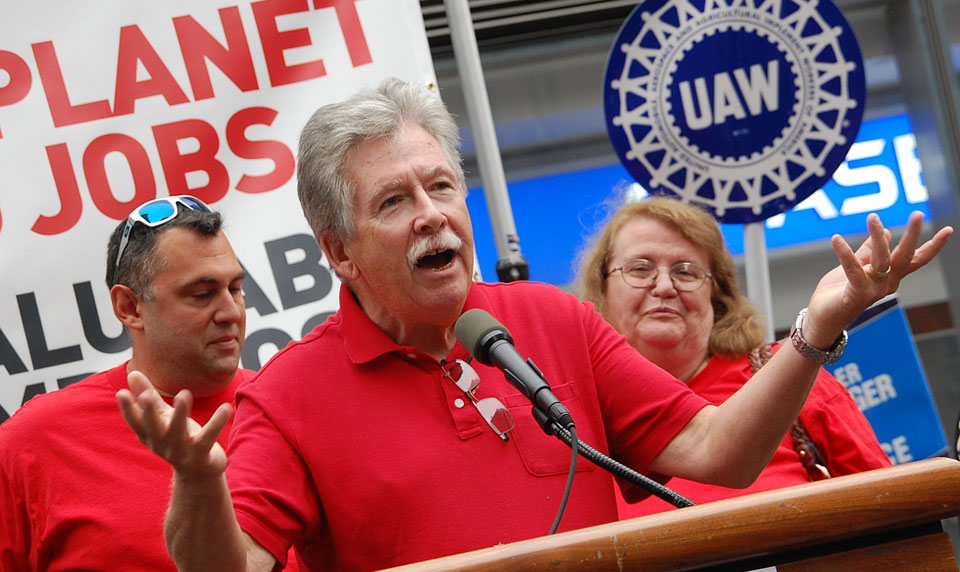 WASHINGTON—At the last Communications Workers convention in Las Vegas in 2019, union President Chris Shelton, a blunt tough telephone lineman from the Big Apple, excoriated then-GOP Oval Office occupant Donald Trump as a threat to democracy. Now the Republican Party itself is that threat, he says.
This time, keynoting CWA's "virtual" convention via zoom, moved from New Orleans due to the resurgent coronavirus pandemic which has filled hospital ERs there to overcapacit, Shelton extended that threat classification to almost all of the GOP, citing democracy along with public health.
"This has been a year and a half of political extremism," he told the delegates on Oct. 18. It included "the decision of a sitting president," Trump, "to refuse to accept the results of an election.
"And never before have extremists, carrying a Confederate battle flag, stormed the Capitol on behalf of a candidate who lost, lost, lost—by seven million votes.
"And never before has a political party, with a few exceptions, lost its mind and accepted the spirit of hate in the insurrectionist mob of January 6."
That, of course is when thousands of Trumpites stormed and trashed the U.S. Capitol, determined, as their leader declared, to "stop the steal," a war cry that Republicans from coast to coast, both officeholders and rank and file, are slavishly following.
"It's migrated to the state capitals" in forms of invasions and threats, Shelton said. There is one difference, though. Now it's "Republican state legislators who wear suits," not buffalo horns and camouflage fatigues, "and who want to make it harder to exercise the right to vote.
"They can't win an election," Shelton declared. "So their Plan A is eliminating the right to vote of those they don't want to vote." Electoral analysts say such anti-voter measures, which have passed in at least 15 states and have been introduced in 34 more, are deliberately aimed at people–and workers–of color. But they also delete voting rights of women, other minorities, young people, some of the elderly and workers, too.
The foes' "Plan B is to sow distrust of the elections and their outcomes" through repeated claims of vote fraud and botched recounts, first in Arizona and now in Wisconsin.
"And at the same time, the Proud Boys and the Oath Keepers are preparing for a violent civil war," Shelton warned.
Led the invasion
Those white nationalist groups, along with their Nazi-like allies, led the January 6 invasion, urged on and commanded to march by their leader, Trump, though Shelton did not have to remind the CWA crowd of those facts.
But he did, in one sentence, vow organized labor in general and CWA in particular will meet that threat. "We will not sit back and let them destroy our democracy!" Shelton declared.
But GOP insanity ranges beyond politics, he said. "We're living through the most-extreme public health crisis" in a century "and putting up with the most insane and extreme reactions to this (coronavirus) crisis."
The "insane reactions" was Shelton's reference to refusal by Republican officials, including Trump, governors, legislators and local pols, to protect people against the modern-day plague. The virus has killed 726,267 people from when it was officially proclaimed in mid-March 2020 through 8 a.m. on October 19. That's equal to killing all but 1,000 residents of Denver.
As a result of that cauldron of hate, plus the pandemic, plus the pressing needs to finally eradicate systemic racism and confront climate change, Shelton warned the U.S., and the labor movement "are not out of the woods yet."
There are still "deep-seated fears" of millions of people about getting vaccinated against the coronavirus, he noted. He didn't have to say the fears are prevalent in Trump-dominated areas saturated with misinformation and lies. But there are also fears about political change and cultural change, Shelton pointed out.
After this litany of woes, the veteran union president told CWA delegates he still "has hope," but even that is tempered because it's on only one side of the political ledger. One reason for that hope was "the enormous effort of the labor movement" to successfully elect Democratic nominee Joe Biden over Trump and elect Democratic majorities in Congress. Those majorities are razor-thin and that's a problem in the 2022 and 2024 elections.
"I see growing agreement, at least among Democrats, that we must deal with climate change and systemic racism while organizing workers to achieve a better life," said Shelton. He also sees hope in rising militancy among workers, union and non-union—a development that prompted AFL-CIO President Liz Shuler to rename the month "Striketober."
"We are not at the point where millions are walking out or sitting in" as they did in the 1930s, Shelton admitted. "There's still too much fear and propaganda employers instill in workers. But there are sparks out there, and our job is to fan those flames."
Due to those slim majorities, Shelton warned progress on key issues—notably Biden's 10-year Build Back Better agenda—could come in fits and starts. "We must accept finite disappointment but never ever give up infinite hope," Shelton said, quoting Martin Luther King. He did not specify what the finite disappointment would be, but Biden's BBB legislation is stalled.
Democratic "moderates," some beholden to corporate campaign contributions, think it's too large and/or too radical. Organized labor is campaigning strongly for it.
The BBB bill covers everything from expanding Medicare to cover vision, dental and hearing care to permanent paid family and sick leave to the Green New Deal to higher fines for labor law-breaking and applied to more corporate offenses and offenders. Shelton reminded the crowd tax hikes on corporations and the rich would pay for BBB's social programs.