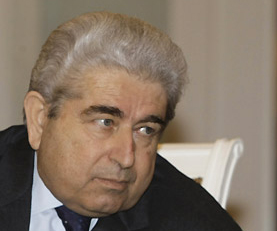 Recently AKEL (the Progressive Party of Working People, Cyprus's Communist Party) had a briefing from Cypriot President Dimitris Christofias, saying that peace was within sight.
Christofias reported on his efforts to resolve the so-called "Cyprus problem," the problem being the occupation of a third of the island nation by Turkey. This occupation followed a 1974 Turkish invasion that was itself precipitated by the attempt of extreme right-wing racist elements on Cyprus who, working with the Greek military dictatorship, staged a coup in an attempt to annex Cyprus to Greece.
AKEL, which holds the vast majority of seats in the Cypriot legislature, said that, in its assessment, President Christofias, who is also an AKEL member, is aiming at a just, viable and workable solution, one that takes into account the interests and rights of both the Turkish and Greek Cypriot communities. The leading role of the United Nations is both good and necessary, but a solution cannot simply be imposed from the outside.
Further, both the ruling party and the president responded favorably to the entrance of Cyprus into the European Union. AKEL says it will support Turkey's admission to the EU, on the single condition that Turkey agrees to comply with the principles endorsed by Europe and the UN with regards to Cyprus.
AKEL voiced support for Christofias, who is working with leaders of the Turkish Cypriot community to find a solution. Through the efforts of President Christofias serious negotiations have begun and the party's report hails the recent appointment of Leopold Maurer as an observer from the European Union.
But the negotiations are sensitive and difficult. During their first phase, the two sides reached agreement on some issues, but other important issues remain as yet unresolved. AKEL maintains that it will not abrogate fundamental principles just to achieve a solution. What AKEL supports is a bi-zonal, bi-communal, federal solution, in accordance with the position of the international community, specifically the EU and the UN. While certain extremist elements are working to undermine such a solution, AKEL estimates that anything other than these principles will ultimately lead to partition of the nation.
Because the negotiations are in a critical stage at this time the utmost unity of the forces advocating a peaceful resolution is vital. AKEL's leaders say that they will do whatever it can to help unity based on principles prevail.