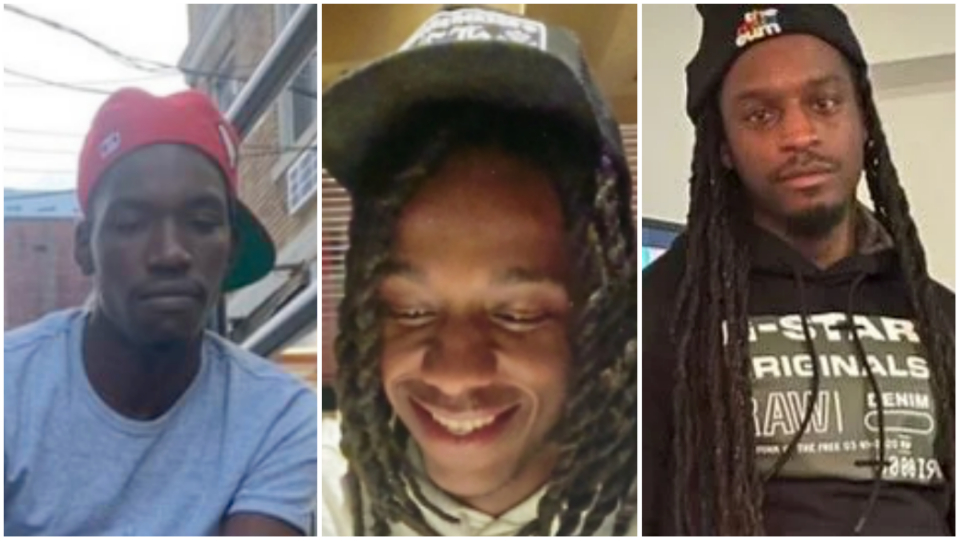 WASHINGTON—In October 2020, four police officers chased Karon Hylton-Brown through D.C.'s Brightwood Park neighborhood in an attempt to ticket him for not wearing a helmet, a violation of the department's chase policy. A car collided with the 20-year-old's moped, killing him. The incident sparked the most heated protests against police conduct since the Black Lives Matter protests that summer.
A year later, Terrence Sutton, one of the four officers who pursued Hylton-Brown, was indicted for his murder. The mother of his daughter, three months old at the time of her father's death, has since filed a lawsuit asking for $100 million in damages.
In the months following Hylton-Brown's death, activists, neighbors, and family members held weeks of demonstrations at the Brightwood Park police station and surrounding area. Officers readily made arrests for property destruction after the station's front windows were smashed.
Hylton-Brown's mother was arrested as she confronted officers for laughing at her from inside the station. Two months before, his father was also taken into custody after one officer stood in the midst of the crowd, calmly pointing at protesters he wanted handcuffed.
That officer was Jason Bagshaw, recently identified as the off-duty MPD officer who fatally shot 23-year-old Lazarus Wilson just last month in the center of the crowded Wharf area.
Released CCTV footage from an undisclosed location captures a picture of Wilson holding a gun outstretched. A security camera inside a nearby restaurant also shows the moment restaurant patrons ducked in response to the ensuing commotion outside. But police body camera footage abruptly cuts to a shot of body camera footage showing Wilson, already shot, lying on the ground. The combination of shots was "the best we had available," according to Contee.
Bagshaw was eating dinner with his wife, also an officer, in the restaurant shown in one video. Off-duty and unequipped with a body camera but armed with a gun, Bagshaw says he ran outside as other restaurant patrons panicked at the disturbance. He claims he identified himself as an officer before firing shots.
As of yet unconfirmed by MPD are the number of shots fired and the number of gun casings recovered at the scene. Police initially said Bagshaw had only fired once, but immediately revised their claim to two when reports of a bystander grazed by a bullet surfaced publicly.
The groups also demand police release information on Bagshaw's blood alcohol content at the time of the shooting. While Bagshaw's discharging of a weapon as an off-duty officer is protected, the revelation that he had consumed any alcohol beforehand would put him in violation.
A police report obtained by The Washington Post gives no clear account as to what brought Wilson to the Wharf or why he was holding a gun. The report says police later recovered over $30,000 in a bag at the scene, but that Wilson was in fact threatened by two other men as he and a friend attempted to buy watches, according to the account of an unnamed involved party.
In the wake of the shooting, videos of Bagshaw's aggressive conduct during the Black Lives Matter protests of 2020 recirculated online.
In one, Bagshaw approaches a truck used to bring food and supplies to protesters. He smashes the driver's window, wrenches the door open, and drags the driver into the street.
Another video shows Bagshaw surrounded by a mob of other officers pushing a Black protester to the ground and handcuffing them as they yell, "What did I do?" Yet another seems to show Bagshaw taking a bow after arresting a protester.
Community organizations have continued demonstrations demanding police accountability for shootings of Black men in the two years since. Most recently, a protest planned by Harriet's Wildest Dreams, a local Black-led police-abolitionist organization, gathered in front of the Wilson Building in D.C.'s downtown.
"For centuries, state-sanctioned violence against Black people has been condoned by our society and our elected officials. This must end," said Nee Nee Taylor, co-conductor of the group, in a press release. "We are calling for the transformation of policing in our society so that it no longer serves as an agent of anti-Black racism, and so that Black people are no longer targeted, harassed, and murdered by police."
Protesters held signs reading, "Stop the war on Black people" and "Abolish the police, protect the community." This time, they demanded answers in last month's police killing of Kevin Hargraves-Shird, again in the Brightwood Park area, just blocks from Hylton-Brown's crash.
The protest came in response to the department's release of body camera footage, which left open questions of whether Hargraves-Shird was shot as he was running away, and if he was armed at the time. The fatal shot fired by police struck Hargraves-Shird in the back of the ear, indicating his back was turned.
"We can't even mourn correctly because we're fighting the police, we're fighting the media. It's not OK," his sister, Serena Hargraves, said after the release. "And they shot him in the back of his head. He was no threat. There was no engagement."
On Saturday, July 30, MPD officers pursued a white sedan driven by Hargraves-Shird. Footage from a nearby neighborhood safety camera shows the car crash into a curb near Fort Slocum Park and three occupants fleeing the vehicle. Hargraves-Shird is then seen exiting the driver's seat as a police car pulls up behind.
Later-released police camera footage shows Police Sgt. Reinaldo Otero-Camacho yelling, "Gun, gun," repeatedly as he jumps out of his car in pursuit of Hargraves-Shird and fires a single shot. The footage shows a gun lying next to Hargraves-Shird, and police later released pictures of the weapon. Police first reported he had been turned toward the officer with a gun in his hand at the beginning of the incident, a claim called into question by the safety camera footage and disputed by Hargraves-Shird's sister.
Officers immediately rushed to handcuff him as he lay on the ground before administering CPR. His sister Serena Hargraves, speaking later after a press conference held by Mayor Muriel Bowser, said, "You know how hard and devastating it is for us to sit there and get videos of them handcuffing my brother and he's bleeding profusely from the head?"
MPD Police Chief Robert Contee later told 7News, "After a person has been shot, officers sometimes, out of an abundance of caution, will place a person in handcuffs, and after placing them in handcuffs, once the scene is safe, no other issues or threats, they'll remove the handcuffs and provide medical aid. It's not necessarily a hard and fast policy."
She also disputed why Otero-Camacho would yell "gun" before firing. At a police press conference, Contee said, "We know from the video the officer says 'gun, gun, gun, gun, gun' five times. But why he said that we've had to find out from him."
"Don't do that! Don't do that," Hargraves shouted from the audience.
She later told reporters, "There are other videos the family has that show there's no gun right there, it's his phone. And I'm not satisfied with what they have to say."
"My family would like to have this officer prosecuted to the fullest extent," echoed his other sister, Cherylnn Shird.
Organizations including Harriet's Widest Dreams, Freedom Fighters Fighters D.C., Defund MPD, Community Shoulders, and the Claudia Jones School are now joined by many others in calling for the firing of Otero-Camacho.
Contee has said the police will conduct a DNA test on the firearm so as not to "jump to conclusions."
The release of body camera footage sparked a community-led protest on Aug. 5 in front of the Wilson building.
"We don't have time to mourn right now. We can't mourn in peace right now. We got to get justice," Hargraves said.