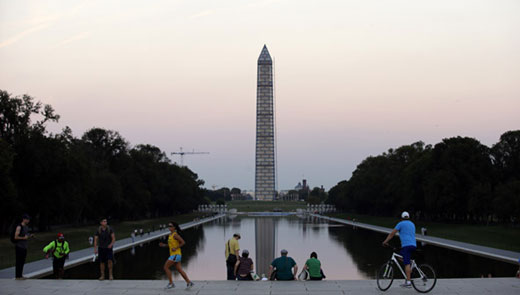 WASHINGTON – In a preliminary vote expected to mirror the final vote early next year, the D.C. Council voted unanimously to support a plan to raise the minimum wage in the District of Columbia to $11.50.
A final vote must still take place, but no member has expressed any intention to vote differently and Mayor Vincent Gray (D) has suggested he is willing to sign the bill, in contrast to his recent veto of a measure to require big-box retailers like Walmart to pay a living wage.
The D.C. Council appears to have the votes to override an unlikely veto, something they fell one vote short of on the big-box store bill.
The vote comes on the heels of two Maryland suburbs minimum wage increase votes.
Montgomery County and Prince George's County, also voted to raise their minimum wages to $11.50. Montgomery County Executive Ike Leggett has indicated he will sign the bill into law.
Prince George's County Executive Rushern L. Baker III has expressed opposition to a minimum wage increase and it is unclear whether he will sign the bill into law.
The D.C. wage increase would be phased in a year earlier than it would in the two counties, taking full effect by 2016.
Not only would the legislation increase the wage from its current rate of $8.25, which is a dollar higher than the national minimum wage, but it would also index the wage to inflation. Washington, D.C., is set to become one of the cities with the highest minimum wage in the country.
The council also voted unanimously to require employers to provide five paid sick days to tipped workers, who had been exempt from paid sick days rules. The change will protect both workers and customers, who will be less likely to be exposed to illnesses.
This article appeared in today's AFL-CIO Now Blog.
Photo: AP