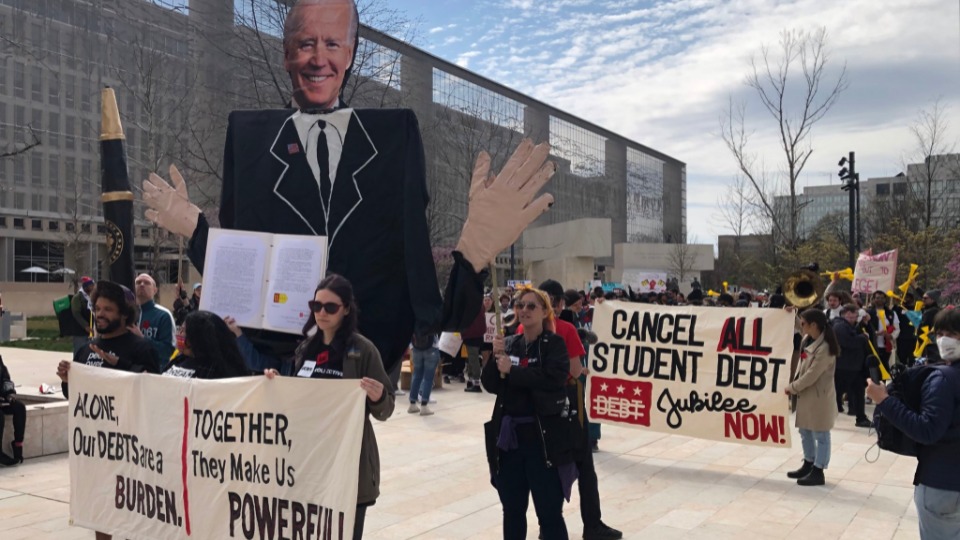 WASHINGTON, D.C.–On Monday, April 4 at noon, student debtors and allies from across the United States came to the Department of Education to demand that the Biden administration cancel all federally-held student loan debt. The rally and march was held by the Debt Collective, which is a union for debtors.
"Just like workers need to band together with other workers to fight for higher wages, better treatment, and time-off, debtors also need to band together," said Debt Collective co-founder and filmmaker Astra Taylor.
The union, originally founded out of the Debt Jubilee movement which was a part of Occupy Wall Street in 2011, has been steadfastly organizing since the beginning of the COVID-19 pandemic by organizing Jubilee schools to teach people about their debts, online tools to relieve people from carceral debt, providing online resources to assist people in getting their debt canceled, and striking (refusing to pay) their outstanding debt. The group organized a campaign of 100 debtors who have been publicly striking their debt since the beginning of the Biden presidency in 2021.
Since the beginning of the union's national organizing, they have won the cancellation of approximately $6 billion worth of student debt.
People in the United States currently hold nearly $1.8 trillion of student loan debt, with the number steadily rising. Since the CARES Act passed at the beginning of the pandemic in 2020, publicly-held student debt has been in a moratorium, with no interest being added to the outstanding debt as well as no payments being required.
The moratorium has been extended multiple times under the Biden administration, which makes it more and more obvious that the executive branch of the government has the power to erase all student debt without disrupting the economy, which is supposedly "booming" now.
The Higher Education Act of 1965, which gives the president the power to extend the pause on student loan repayments, also gives the president the authority to completely erase the debts, according to Debt Collective's research.
Though President Joe Biden and House Speaker Nancy Pelosi, D-Calif., argue that Congress needs to pass a law in order to cancel student debt, Senate leaders Chuck Schumer, D-N.Y., and Elizabeth Warren, D-Mass., have been urging Biden to cancel up to $50,000 of student loan debt per borrower via executive order.
Progressive Caucus members like Rep. Ilhan Omar, DFL-Minn., and Sen. Bernie Sanders, I-Vt., have gone further, calling on Biden to cancel all student debt. Rep. Pramila Jayapal, D-Wash., introduced legislation in 2021, the College for All Act (H.R. 2730), which if passed would eliminate all tuition costs. The Debt Collective argues that once student debt is canceled, tuition costs must immediately follow so the borrowing burden does not again fall on future generations.
The Debt Collective has been repeatedly calling on Biden to sign an executive order canceling all student loan debt, even making it easier for the president by drafting the decree for him.
When the Biden administration first took office in 2021, one of its initiatives was to assign the Department of Education to investigate the president's legal authority to cancel student loan debt. Secretary of Education Miguel Cardona stated that the memo would be done and sent back to the president within weeks, with Press Secretary Jenn Psaki confirming that at a White House press briefing in early 2021.
Since then, whenever she is asked, Psaki says she has no update. The Debt Collective has since submitted a Freedom of Information Act (FOIA) request and received a heavily redacted memo without much useful information.
The Monday rally and march in D.C. featured speakers from many progressive organizations from around the country, such as the Dream Defenders, Harriet's Wildest Dreams, and others, as well as Philadelphia city council member Kendra Brooks, progressive leader Nina Turner, and cultural performances by Miss Prissy, DC3, and others.
Nee Nee Taylor of Harriet's Wildest Dreams noted that Washington, D.C., residents hold the most debt in the nation in a single city, with $6.4 billion in student debt. Taylor also emphasized that statehood for Washington, D.C. is important in this fight as well.
The Debt Collective is encouraging all student debtors to not pay back their loans when repayment officially re-starts on May 1, 2022, and to instead publicly strike against their unjust debts. More information can be found here on how to safely debt strike without committing financial suicide.
"The Debt Collective defines a student debt striker as anyone who is paying $0 a month for a combination of economic and political reasons—because they can't pay and know they shouldn't have to pay—and who is committed to joining the fight for broad-based cancellation. A student debt strike is about politicizing nonpayment collectively. Instead of doing things as individuals, we are doing them together as a united front."
TAKE ACTION ON THE STUDENT DEBT CRISIS:

Are you loaded down with student debt? Click here to learn more about the debt strike happening when student loan repayment starts.