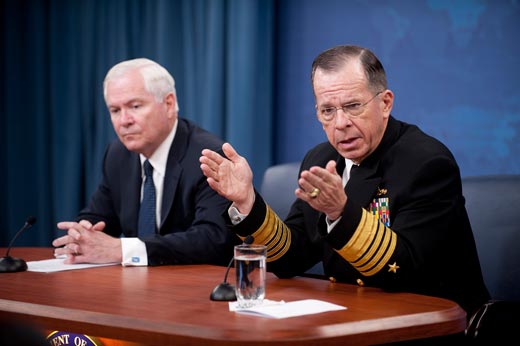 In what many are calling a landmark vote for expanding civil rights and equality, the US Senate voted 65-31 to repeal the discriminatory "Don't Ask Don't Tell" policy in the military on Dec. 18. The House had voted to repeal the law 250-175 earlier. President Obama will sign the bill this week.
Repeal of the policy means that, for the first time in US history, gays, lesbians and bisexuals will be openly accepted by the armed forces and can serve without fear of being kicked out.
"It is time to close this chapter in our history," President Obama said in response to the vote. "It is time to recognize that sacrifice, valor and integrity are no more defined by sexual orientation than they are by race or gender, religion or creed."
"Don't Ask Don't Tell" stems from efforts during the first year of the Clinton administration in 1993 to lift the ban on gays, lesbians and bisexuals openly serving in the military. The effort failed and Congress reinforced the ban. It has resulted in over 14,000 expulsions of gays, lesbians and bisexual service members.
Since then, public opinion opposing anti-gay discrimination has become widespread and was reflected in decisive support for a repeal of the legislation. A poll done earlier this year showed 80 percent of the public supported repeal and 70 percent of members of the armed forces thought it would be a good thing.
"I am obviously delighted that the day has come when gay men and lesbians will be able to serve without fear of being discharged," John Affuso, a gay army veteran, told the Rainbow Times Reporter. "I hope all the folks on active duty are heaving a slight sigh of relief as we get closer to the day the policy disappears."
Affuso and other gay veterans have been lobbying Sen. Scott Brown, R-Mass., since last spring. Brown, and Republican Sens. Mark Kirk of Illinois, George Voinovich of Ohio, Lisa Murkowski of Alaska and Olympia Snowe and Susan Collins, both of Maine, were critical votes in ending cloture and send the measure onto the floor for a vote.
The shift in public opinion allowed eight Republicans to then break ranks and vote with 55 Democrats and two independents, despite the determined opposition led by Sen. John McCain, R-Ariz..
The repeal had support in the highest ranks of the U.S. military including Chair of the Joint Chiefs of Staff Michael Mullen and Defense Secretary Robert Gates.
"No longer will able men and women who want to serve and sacrifice for their country have to sacrifice their integrity to do so. We will be a better military as a result," said Mullen.
The historic voted was greeted by a broad spectrum of organizations.
"America made history today. After 17 years of this failed and discriminatory law, gay and lesbian service members will soon be able to serve with the full honor and integrity the uniform demands. No longer will patriots be forced to lie in order to serve the country they love and are willing to die for," said Joe Solmonese, president of the Human Rights Campaign.
"This vote by the United States Senate will have extremely positive ripple effects well beyond 'Don't Ask, Don't Tell.' Our government has sent a powerful message that discrimination, on any level, should not be tolerated," he said.
In addition a concerted effort by LGBT organizations, civil rights and civil liberties organizations, the AFL-CIO, veteran's organizations and countless others mobilized grassroots support directed at Congress.
Pride at Work, the GLBT constituency group of the AFL-CIO hailed the repeal. In a statement the group said, "Any form of employment discrimination is wrong, by any employer – it's that simple, and a wonderful victory to see the House and Senate finally act to change it.
However, Pride at Work also noted it was a bittersweet day, with the Senate's failure to advance the DREAM Act.
It is a sad travesty that the same body that stood up today for gay, lesbian and bisexual people in the military failed to stand up for young immigrants in our country.

While we are celebrating the repeal of DADT today, we also know there are a lot of struggles ahead – for workers' rights, for the rights of transgender individuals, for same-sex couples, and fighting against employment discrimination and for racial and economic justice for all people. We must support each other across the intersections of our communities. We must stand together as one progressive movement, fighting for justice and equality for ALL members of our LGBT community and our allies.
Photo: With support from top military brass, such as Defense Secretary Robert Gates (l) and Admiral Michael Mullen (r), as well as among rank and file service members, the repeal of the anti-gay "don't ask don't tell" policy marks a historic win for civil rights. (Office of the Joint Chiefs of Staff)