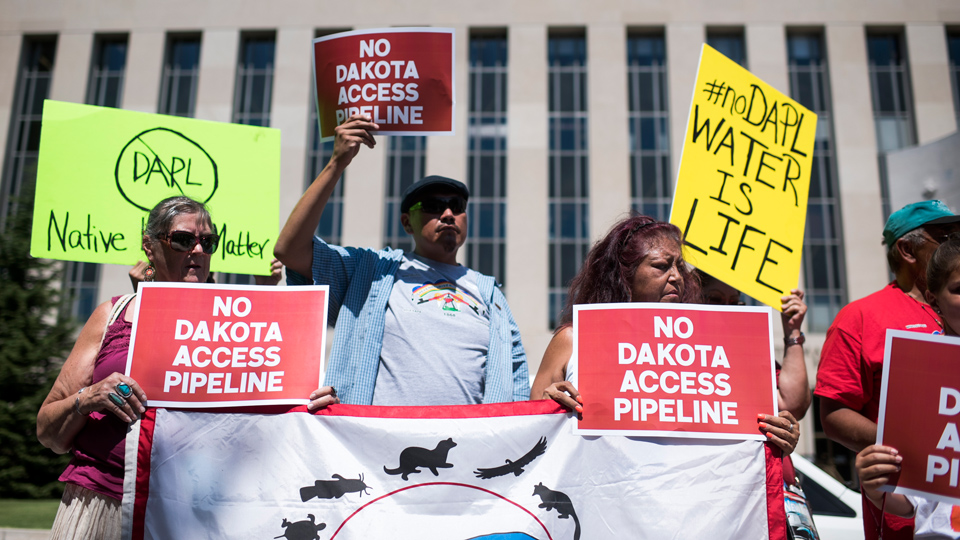 When will President Obama stand up to big oil? So far on this issue, he is beginning to have the look of a servile figurehead. Energy Transfer partners, the corporate owner of the Dakota Access Pipeline (DAPL) defiantly announced November 8 that in two weeks it would begin drilling under the Missouri River.
Who is in charge? Energy Transfer Partners (ETP) or Obama? So far the corporation has "called the shots." It has regarded Obama with obvious contempt as it has refused to heed his requests to halt construction while federal agencies reassess permits and consider rerouting of the pipeline. Obama needs to show some intestinal fortitude and immediately suspend the construction permits for this heinous enterprise.
In effect, ETP has issued an ultimatum to Obama that the pipeline will move across the river in two weeks with or without an easement. It seems that ETP has decided to drop all pretense that Obama runs the country and to let it be bare-knuckled clear that corporate America is in charge.
If Obama does not act to assert the authority of the federal government, the Constitution, and the law of the land, this raises some interesting legal questions in regard to the role of the forces involved. If ETP breaks the law and begins drilling to cross the Missouri River, will the Morton County Sheriff's Department, the National Guard and the various law enforcement agencies from adjacent states continue act as the private army of DAPL? Does the Standing Rock Sioux Tribe and its allies have a legal right to use force to oppose this illegal enterprise at this point?
If Obama does nothing, this sets a very dangerous precedent for the complete and obvious illegal takeover of the entire country. This sets a precedent for a much wider civil conflict, the likes of which have not been seen since the Civil War. This would set the stage for a fascist takeover as has so far progressed in North Dakota. Federal troops should have been sent in long ago to meet this threat and to safeguard the rights and lives of Native American citizens.
If Obama does nothing—or worse, supports the approval of the easement—it will be proof positive that he is in the hip pocket of Big Oil. His legacy, everything he has done that has been seen as positive, will pale into insignificance as he will be seen as the puppet of big business. At last the real Obama will be standing up—not in opposition to the corporate destruction of this land and its people, but as a dissembling accomplice.