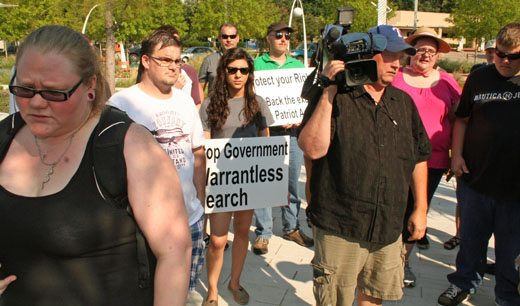 DALLAS – More than 100 people celebrated the 4th of July here by demanding an end to U.S. government spying on its citizens. The Dallas action was an all-day event in the new Klyde Warren Park uptown. Nearly all the participants were 20-something-year-olds who had never been on a street action in their lives before.
In a short, low-key rally, activists talked mostly about the rules of the ritzy new park Then they carried their signs to the street corners and spent the rest of the day sounding an alarm to passersby. One of the signs, which drew a lot of noisy responses, said, "Honk if your phone is tapped!"
One of the Dallas organizers, Michael, who did not give his last name, appeared on KNON radio's "Workers Beat" program on the 6th. He said "Restore the Fourth doesn't refer to" Independence Day, but rather to the Fourth Amendment to the U.S. Constitution, which is supposed to protect U.S. citizens from unreasonable search and seizure. Millions of felonies are being committed by government agents who record data on phone calls, e-mails, and every letter that passes through the U.S. Post Office, Michael said.
Responding to a caller on the radio talk show, Michael said Edward Snowden, who revealed a great deal about government spying, should be protected under whistleblower laws. He noted that Snowden had revealed illegal activities and pointed to the perpetrators. Several callers asked, "What's all the fuss about?" because, they said, Americans, especially African Americans, have been painfully aware of government spying since the days of Dr. Martin Luther King, Jr. Michael responded that no one knew the incredible extent of government spying before the Snowden revelations, and that an informed and active populace can end government excesses and restore the Fourth Amendment.
At the Dallas rally and on the radio show, an age gap was clearly discernible. Michael, who is 22, said the protest phenomenon owed its existence to social media. Younger people, he suggested, are better able to understand the ravages to personal privacy that new technology can wreak. Further, he said, younger people have a better understanding of how to use technology to fight back.
Michael asked radio listeners to visit the Restore the Fourth website to get better information. If they write to organizing@restorethefourth.net they can be advised of more actions. He asked people to return to Klyde Warren Park at 11 a.m. on July 20th to keep the fightback going. "Step 2," the website says, "Is that this isn't over!"
Photo: Restore the Fourth demonstration in uptown Dallas, July 4, 2013. Jim Lane/PW