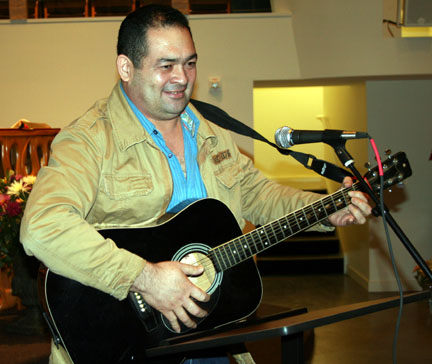 DALLAS – Every day, immigrants are leaving behind their homelands in search for the American dream. Their stories of struggle and hardships may never be heard. In a Dec. 18 Day of the Immigrants celebration, however, for an audience of 65 or so, six immigrants from all corners of our planet told their stories at the Northaven Methodist Church. It was inspiring to hear how these brave men and women faced impossible odds in search of a better life here.
For example, Antonio Herrera emigrated 20 years ago from El Salvador due to the violent civil war raging. He was tortured by the oppressive U.S.-backed government for suspicion of involvement with the rebel guerrilla. He escaped as a refugee to Honduras and hid from the right-wing military death squads. Herrera was caught on the U.S. border and was sent to a camp in Fresno, California, where he was finally granted asylum as a refugee.
There is cold irony in cases like Antonio's. He was forced to flee to the very government that supported the oppression in his country. This is not an isolated case, as Haidar Al Zuheiri, who left Iraq during the current occupation, testified. Haidar, who worked for the United Nations helping refugees, had never imagined that he would become like the people he was helping. In his own words, "Everyone could be a refugee one day." Many of the immigrants were denied visas even when all their paperwork was in order. They proved that there is a desperate need for immigration reform. The argument continues as more and more people are pouring in every day due to the lack of resources and stable economies in developing countries.
It was really amazing to see so many cultures working together in one occasion, all working in solidarity and singing in unison. Kalaba Chali, from Zimbabwe, gave some very encouraging words of wisdom that certainly put smiles on the faces of everyone in the audience: "Don't be ashamed to be an immigrant, it is beautiful … learn the language of the new land, but do not forget your language."
The event concluded with everyone singing "Feliz Navidad" and a feast followed with ballet folklorico. Events like this one show that mankind is not meant to have barriers between races, or borders between nations. We as a human race are meant to live as one people.
Photo: PW/Jim Lane