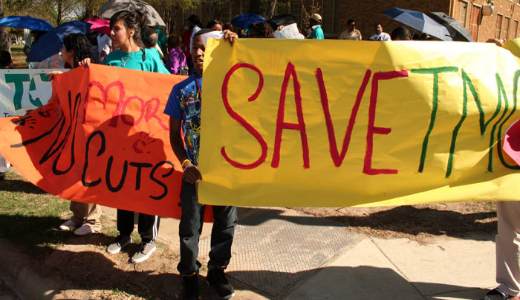 DALLAS – The horrific education cuts pending in the Texas Legislature have encountered opposition around the state. Students, teachers and even one school board member protested outside the Townview Magnet Center here as school let out on March 23. "Save Our Schools" was the main chant, but many others were used. The crowd was almost completely African American and Latino.
One of the students held a sign that said, "Honk to Save Our Schools," and the crescendo of automobile horns provided an exciting rhythm behind the speakers. Carla Ranger, a trustee of the Dallas Independent School District, urged the crowd to keep on protesting. Organizers from the Texas Organizing Project signed people up for the statewide coalition march and rally at the State Capitol on April 6.
Jan Sanders, the highly respected senior activist and widow of Federal Judge Barefoot Sanders, asked the crowd to join her in opposing the de-funding of the Barefoot Sanders Law center inside the school.
A young female student told the crowd, "We are the future, and what are they doing to us and the future?" Many of the protesters carried umbrellas, even in the bright sunshine, to symbolize the "rainy days" that have befallen Texas. Governor Rick Perry, who has presidential aspirations, is trying to keep the legislature from using the state's $9.4 billion "Rainy Day" fund to avoid layoffs and cuts in services.
A 16-year-old young woman carried a sign, "It's raining, and Rick Perry is snoring!"
Photo: Students and supporters rallied to save their school in Dallas. Jim Lane/PW