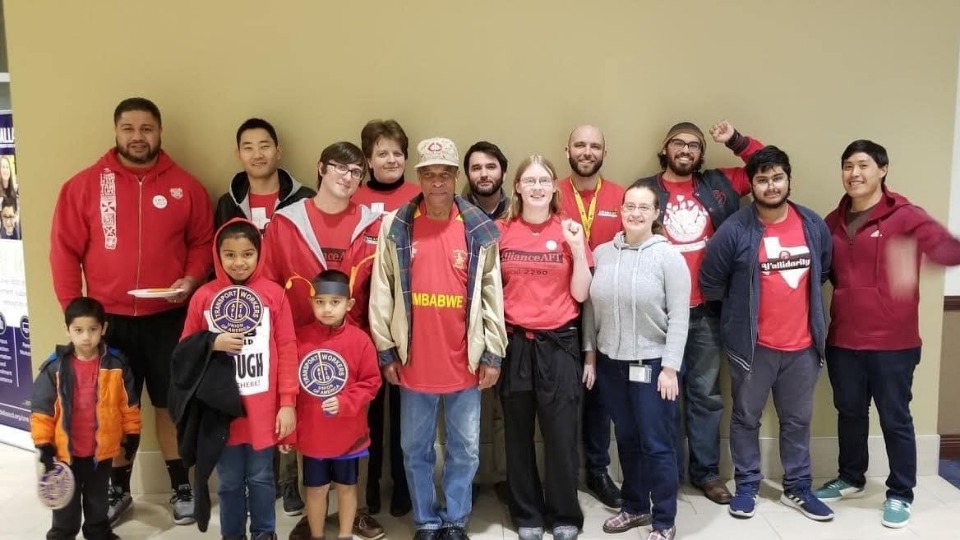 DALLAS—Members of Alliance/AFT, the local American Federation of Teachers union in the Dallas Independent School District (ISD), took its demand for pay raises to the city's school board on April 22. The union is demanding 7% pay raises for teachers and a 5% increase for support staff, along with a $1,000 bonus in January 2022.
Annually, teachers typically receive a 2% cost of living increase. Still, the union argues that receiving this alone would effectively be a salary decrease and is not enough given the amount of stress teachers have dealt with during a pandemic school year.
Alliance/AFT said that under their average salary, Dallas ISD teachers could not afford to purchase a home within Dallas city limits. Teachers should be able to live comfortably in the communities they teach in. A 7% raise would make homeownership possible for more Dallas ISD Teachers.
Teachers made speeches pointing out the difficulties of teaching in a pandemic. They have had to go to work and risk getting sick from COVID-19; some Dallas ISD teachers have even died.
Through the pandemic, Dallas ISD has been operating under a hybrid educational system. Some students attend classes in person, while others complete schoolwork at home, receiving teacher instruction through Zoom. Teachers have dealt with the pandemic by coming up with new and inventive ways to engage students virtually through many online platforms.
Around 20 teachers and educator Alliance/AFT union members spoke at the school board meeting requesting these pay raises.
In his speech to the school board, Andrew Kirk, a Dallas ISD Social Studies teacher and Alliance/AFT building leader, referred to how Dallas ISD school workers were celebrated last year in Time magazine as heroes:
"The respect we give district employees, teachers, and support staff should be commensurate with the immense social value they generate. One year after the lionization of essential school workers, the pay still doesn't match the praise. When I hear district administration and representatives describe school workers as heroes, I am reminded of James Baldwin's words: 'I can't believe what you say, because I see what you do.'"
Another reason teachers cited for requiring a raise was that the teacher merit pay system, called the Teacher Excellence Initiative (TEI), was frozen last year when the pandemic started and is again frozen this school year due to the pandemic. No teacher received a score. Many teachers who thought they would have risen in the system could not get raises because no one received a score in the past two school years.
Alliance/AFT also has been organizing a TEI committee to change the merit pay system in the district to a less punitive one. The current system ties teacher pay to standardized test scores. As a replacement, the TEI committee puts forward the idea of a peer-to-peer evaluation system that better develops and maintains teachers.
Alliance/AFT activists and other protesters of TEI jokingly refer to it not as the Teacher Excellence Initiative but the "Teacher Exit Initiative" because of the high faculty turnover in Dallas ISD, which many attribute to the punitive and rigid merit pay evaluation system.
Teacher union battles in Dallas ISD center around battling against and/or negotiating with a school board filled with trustees (elected members) backed by wealthy executives in the business community around the city and surrounding areas. There are political action committees called Dallas Kids First and Educate Dallas funded by the wealthiest executives in the Dallas area. These PACs pick candidates that support the constant standardized testing system and merit pay based on standardized test scores. These candidates can be difficult to beat, given their big money backing them.
Merit pay and the obsession with standardized testing from the administration in Dallas ISD is part and parcel of the charter school, and school privatization movement led nationwide by the wealthiest billionaires and CEOs of the biggest corporations in the United States, including Bill Gates, Jeff Bezos, Eli Broad, the Walton family, Rupert Murdoch, and others.
The goal of this movement (some call it the "Education Reform Movement," although Diane Ravitch has named it the "Corporate Education Disrupter Movement") is to undermine public education so they can privatize education and build charter schools. Corporate bosses see opportunities to profit off of our country's public education system. The politicians backed by corporate bosses want to destroy teachers' unions and destroy the teaching profession to lower the pay of teachers and avoid paying teachers pensions.
Books to read on this subject: Diane Ravitch's Slaying Goliath: The Passionate Resistance to Privatization and the Fight to Save America's Public Schools and Reign of Error: The Hoax of the Privatization Movement and the Danger to America's Public Schools.