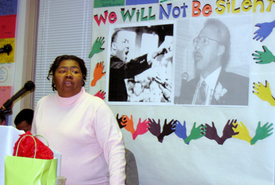 Dalzenia D. Henry, of New Haven, Conn., a community and union leader for social and economic justice and peace died on Jan. 12 after a sudden illness at age 49. She devoted her life to working with children, and was acting president of the AFSCME local at the Children's Center. Previously she had conducted an after school program for children at the Quinnipiac Terrace housing development where she grew up.
In 1992 she was a candidate for state representative on the Tax the Rich line. She also served for several years as a commissioner on the City of New Haven Peace Commission. In August she was a delegate from Connecticut to the national Communist Party African American Equality conference held in St. Louis, Missouri.
"Dalzenia was a wonderful friend and comrade. She had a passion for justice and a zest for life. She put family first and embraced the entire community," said Joelle Fishman, chair of the Connecticut Communist Party. "Her creativity, deep political thinking and optimistic outlook for achieving basic change made a lasting impact. We are shocked and saddened by her loss."
She leaves behind her mother, a retired leader of HERE Local 35, her step-father, two sons, two daughters, six grandchildren and many other relatives.