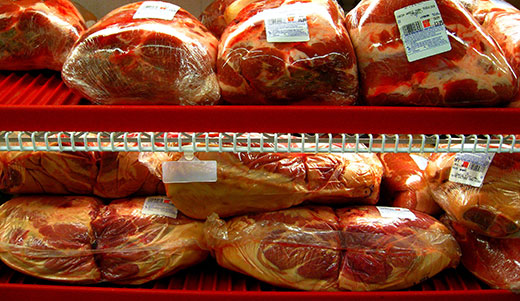 Wash your hands, and watch out for factory-farmed meat.
Nearly one in four meat samples from Detroit-area supermarkets contained Staphlococcus aurea bacteria, scientists at Wayne State University reported this week. And from 1 to 4 percent of the samples contained an antibiotic-resistant version of the bacteria, known as MRSA.
The Wayne State study used 289 samples of beef, chicken and turkey purchased in Detroit and surrounding communities. The researchers say it is the first time that human MRSA has been discovered in retail poultry in the United States.
But it's not just Michigan.
In a nationwide study released in April by the nonprofit Translational Genomics Research Institute, known as TGen, "nearly half of the meat and poultry samples – 47 percent – were contaminated with S. aureus, and more than half of those bacteria – 52 percent – were resistant to at least three classes of antibiotics."
The TGen study was based on 136 samples – covering 80 brands – of beef, chicken, pork and turkey from 26 grocery stores in five U.S. cities: Los Angeles, Chicago, Fort Lauderdale, Flagstaff and Washington, D.C.
Staphlococcus aureus is a common type of bacteria that normally lives on the skin and sometimes in the nasal passages of healthy people, the Wayne State researchers note. But MRSA, methicillin-resistant Staphylococcus aureus, can cause difficult-to-treat and even life-threatening illnesses.
MRSA bacteria can cause infection when they enter our bodies through a cut, sore, catheter, or breathing tube, according to the National Institutes of Health consumer website, PubMed Health. "The infection can be minor and local (for example, a pimple), or more serious (involving the heart, lung, blood, or bone)."
The head of the Wayne State study, Yifan Zhang, assistant professor of nutrition and food science, emphasized the importance of sanitation in handling meat.
"Always wash your hands before and after handling any raw meat, and protect your hands and skin with disposable gloves," Dr. Zhang advised in a May 16 university press release. In addition, she said, "Cooking can kill MRSA, so if you cook the meat well, MRSA can be eliminated from your food."
But TGen scientists pointed to industrial meat production as a source of the problem, and said more oversight is needed.
Lance Price, senior author of the TGen study, said the study showed that contamination of the nation's meat and poultry with antibiotic-resistant Staph is "substantial."
The contamination "likely came from the food animals themselves," and this "demands attention to how antibiotics are used in food-animal production today," Dr. Price said in a TGen news release.
Summarizing the study's conclusions, the news release says, "Densely-stocked industrial farms, where food animals are steadily fed low doses of antibiotics, are ideal breeding grounds for drug-resistant bacteria that move from animals to humans."
It points out that the U.S. government routinely inspects retail meat and poultry for four types of drug-resistant bacteria, but not Staphlococcus aureus. The paper suggests that a more comprehensive inspection program is needed.
Photo: SpecialKRB CC 2.0