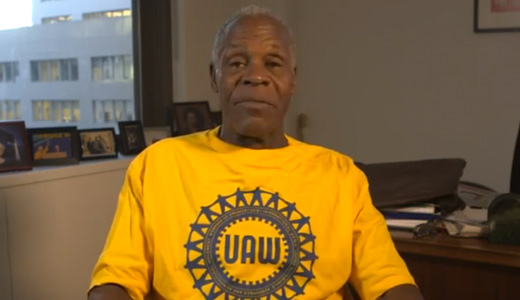 Workers at the Nissan Plant in Mississippi are still fighting for the same rights Nissan workers in Japan have received for many years? Why? Because Nissan USA is anti-union and is pushing to keep workers down!
To often we hear stories of unions aggressively organizing. Or rumors of unions bullying people to join. The problem is that you hardly ever hear about the stories of the companies who are trying to block the unions from having an election. At the Nissan plant in Canton, Mississippi, this is what is going on every day.
This intense anti-union campaign includes making implied threats to close the plant and interrogating and harassing pro-union workers.
Now the workers in Canton, Mississippi, are getting some help from labor unions around the world, and a very friendly (and very well known) spokesman. Actor Danny Glover delivers a special message to the people at the international Labour Start conference.
For those who do not know, Danny Glover is also very well known for his philanthropic endeavors. As the son of postal workers he has spent millions of dollars supporting different organizations to promote social and economic justice, access to health care, and education programs in the U.S. and Africa. Danny was also arrested in 2010 in a labor protest.
"On April 16, 2010 Danny Glover and 11 others were arrested for trespassing at a Service Employees International Union protest at the Sodexo headquarters. SEIU says it was protesting what it calls Sodexo's unfair and illegal treatment of workers" (From Wikipedia).
Danny also received one of the highest honors from the United Auto Workers. Danny was presented with the UAW Walter Reuther Social Justice Award.
"He stood with protesting union members in several states. Wherever there's a fight for workers' rights, he has been there. Wherever workers are oppressed, Danny Glover has been there," UAW President Bob King told the more than 1,200 delegates and activists as he presented Glover the award. Read the full article at the UAW Blog
Now Danny is calling on all the labor unions in the United States and around the world to send this message to Nissan's Chief Operating Officer, Mr. Toshiyuki Shiga. He is asking for Nissan to "DO BETTER." This treatment of U.S. employees would not be allowed in Japanese plants and should not be allowed here. Mr. Shiga has the power to direct the managers of the Nissan Plant in Canton, Mississippi, to respect the workers and allow them to join the union if they choose.
Take one minute to go to the Labour Start Webpage and sign this letter to Mr. Shiga. Help the United Auto Workers give the workers in Mississippi a chance to find their voice.
Dear Mr. Shiga,

I am writing to respectfully voice my concern regarding anti-union, anti-freedom of association activities including the intimidation and harassment of workers seeking to unionize at your Nissan facility in Canton, Mississippi, USA.

I feel this type of aggressive, anti-union, hostility is a dishonor to Nissan's well-respected reputation as a global leader, a long-standing member of the UN Global Compact, and a role model for positive labor relations. Nissan Canton local management's actions are in direct violation of the United Nations Global Compact principles and the ILO standards which Nissan corporate management has committed to abide by.

Nissan's employees in Canton, Mississippi, wish to exercise the same rights that Nissan workers in Japan and elsewhere enjoy. And like the many unionized Nissan workers around the globe, they proudly support their company, but they also want a voice on issues that affect them, their families, and their community.

I urge you to immediately intervene to bring local management in Canton, Mississippi, in line with the values and principles that has established Nissan as a successful and esteemed corporate citizen and allow workers in Mississippi the fundamental right to a fair union election, free of intimidation and fear.
Reposted with permission from The New Hampshire Labor News. Follow them on Twitter at @NHLabor_News.